DentaQuest's $10,000 donation to Memorial Hermann Foundation Supports Mobile Dental Program in Houston Schools
HOUSTON/PRNewswire/ – DentaQuest, the leading purpose-driven oral health company and the largest Medicaid dental benefits administrator in the nation, has donated $10,000 to the Memorial Hermann School-Based Health Centers' mobile dental program. This donation marks the latest in DentaQuest's outreach to strengthen the Houston community, including $1 million to Harvey recovery, $5,000 and hundreds of volunteer hours to the Houston Food Bank, and member outreach events including many during the month of November.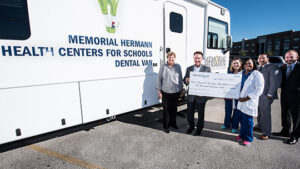 Memorial Hermann Foundation supports 11 school-based health centers and three mobile dental care vans to serve five Houston area school districts (Houston, Pasadena, Aldine, Alief, and Lamar Consolidated). DentaQuest's donation will support much needed basic dental care for uninsured children in grades K-12. In 2016, the centers provided 32,500 medical, mental health, nutritional, and dental services.
Both Memorial Hermann Foundation and DentaQuest understand that a lack of access to preventive health services can directly impact a child's ability to engage at school. This is particularly true for Houston-area children in poor health, who are hungry, fearful, and living in poverty. Children with poor oral health are nearly three times more likely than their counterparts to miss school as a result of dental pain, and research shows these absences are associated with poorer school performance.
"We are happy to say that many Medicaid-eligible children in Greater Houston have dental benefits through DentaQuest. But we want all of Houston's children to have a fair chance at success," says Joe Vesowate, DentaQuest's regional vice president in Texas. "This partnership with Memorial Hermann Foundation that brings dental care to uninsured children where they are – at school – is so important to us," Vesowate adds, "As a bonus, this also creates opportunities to connect with hard-working parents on what they need to know to keep their children healthy and cavity free."
School-based health centers, like those in Houston's public schools, increase educational success by providing medical, dental, and mental health care that enables students to stay in school and learn—a big part of why DentaQuest is involved. Ensuring children can stay in school can actually interrupt the cycle of poverty and disparities, given that high school graduates are more likely to be employed and insured. The Memorial Hermann mobile dental program aligns with the DentaQuest company mission to improve the oral health of all by providing access to basic dental services, oral health education, and a deep commitment to transforming the health of the communities served.
Ongoing Investment in the Houston Community 
The latest donation from DentaQuest reflects its ongoing commitment to families in Texas. DentaQuest recently committed $1 million to the Rebuild Texas Fund, established by the Michael & Susan Dell Foundation, following the devastation by Hurricane Harvey. Along with the donation to Memorial Hermann, DentaQuest will continue efforts to connect with members and providers in the Houston area—participating in 10 outreach and community events in Houston this November alone.
As a partner to the State of Texas, DentaQuest provides Medicaid and CHIP dental benefits that cover a full range of care with a focus on prevention and access for roughly 1.7 million people. DentaQuest partners with over 6,350 dental providers across the state, and in Harris County, DentaQuest has more than 1,500 providers and roughly 60,000 members. DentaQuest is involved locally in the community and regularly partners with area non-profit organizations to offer oral health education, basic dental screenings and free dental hygiene kits. Upcoming events include the 2017 Statewide Parents Involvement Conference and the Claude Black Community Center Healing Holiday Event. Through DentaQuest Cares, the company's employee volunteer and giving program, employees are encouraged to share their time with local nonprofits, like the Houston Food Bank, and give back to the communities where they live, work, and play.
For more information about DentaQuest and the work they are doing in the Houston community, please contact Apiyo Obala apiyo@wyattbrand.com for details. For general information about DentaQuest please visit: dentaquest.com.