Greater New York Smiles Along With Colgate Bright Smiles, Bright Futures And Baseball Great C.C. Sabathia Raise Oral Health Awareness Among Local Elementary School Children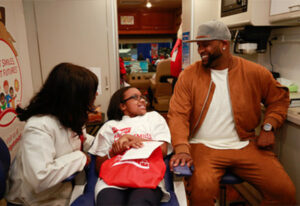 NEW YORK, Nov. 28, 2017 /PRNewswire/ — Colgate Bright Smiles, Bright Futures teamed up with professional pitching ace C.C. Sabathia  to educate hundreds of local elementary school children on the importance of maintaining good oral health habits at the Greater New York Dental Meeting's Greater New York Smiles Program at the Jacob K. Javits Convention Center.
Against the backdrop of the largest dental meeting in the United States, Sabathia addressed the students, challenging them to think about oral health as an important part of their overall health and as a healthy habit that could have a major impact on their ability to perform in school and other arenas. The celebrated baseball star also led the students in a rousing cheer that reinforced the importance of healthy habits.
"Your family, teachers, and those of us here today all want you to have a future that you can smile about," Sabathia advised the students. "Listen closely to what you hear this morning, because all of you have the opportunity to be successful, and when you do, a healthy bright smile is going to come in handy."
During their visit to the Greater New York Dental Meeting, the New York City students boarded a Colgate mobile dental van for screenings performed by dental professionals. Volunteers from local hygienist schools staffed brushing stations, teaching the children proper brushing techniques, and oral health-themed videos, games, activity stations, puppets, and costumed characters encouraged the young guests to limit sugar and maintain an effective dental care routine.