Welcome to Decisions CE
Here we offer evidence-based, peer-reviewed continuing education courses written by world-class educators, researchers and clinicians.
Decisions is committed to elevating your clinical skills and knowledge.
Use Decisions CE to provide the highest level of care.
The Importance of Peer Review
As a peer-reviewed journal, Decisions in Dentistry follows stringent protocols to ensure the quality and accuracy of our peer-reviewed content — and we believe it's important for readers to understand how this process works. All peer-reviewed content is vetted using a double-blind format — meaning, the papers are blinded so the reviewers don't know who wrote the article, and the authors don't know who reviewed the submission. This ensures impartiality. At a minimum, each paper is reviewed by at least two experts in that subject area. Reviewers use our author guidelines as the framework for their evaluations, as well as a specific rubric that helps them determine if an article is acceptable for publication. In addition, reviewers are encouraged to make suggestions or corrections on the manuscript and provide comments in a dedicated area of the peer-review form. Our authors use these critiques to make revisions when preparing the final submission.
But the process doesn't end there. Once an article is edited and in layout form, it is sent to our Editor in Chief Thomas G. Wilson Jr., DDS, and Publisher Lorene Kent, RDH, BA, for review and comment. By the time you read a Decisions article, it has been read and reviewed by at least five or more oral healthcare professionals.
So, the next time you pick up a dental publication aimed at a clinical audience, we encourage you to examine the process it uses to ensure the content is evidence-based, accurate, unbiased and trustworthy.
Look for this icon throughout the print journal:
Decisions Peer-Reviewed Content

Online Learning Has Never Been Easier
Broad Array of Courses
Our course library features more than 140 courses written by world class educators and researchers. Sort courses by date to view the latest, or use the category selector to choose from over 30 different categories.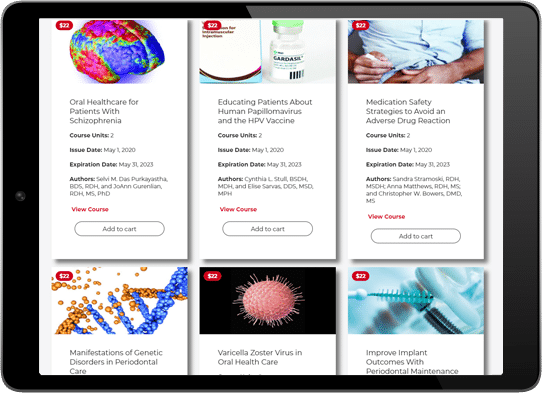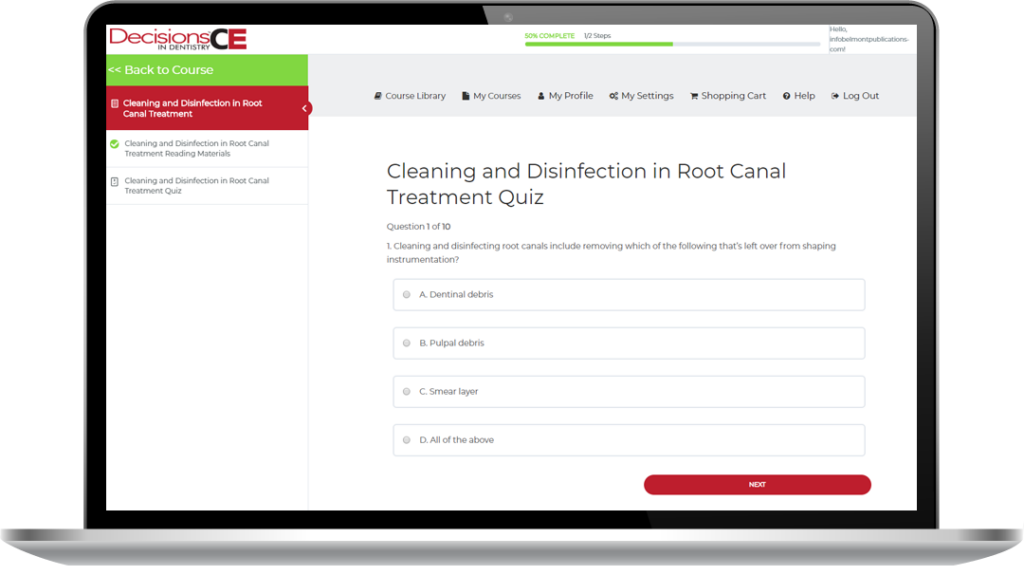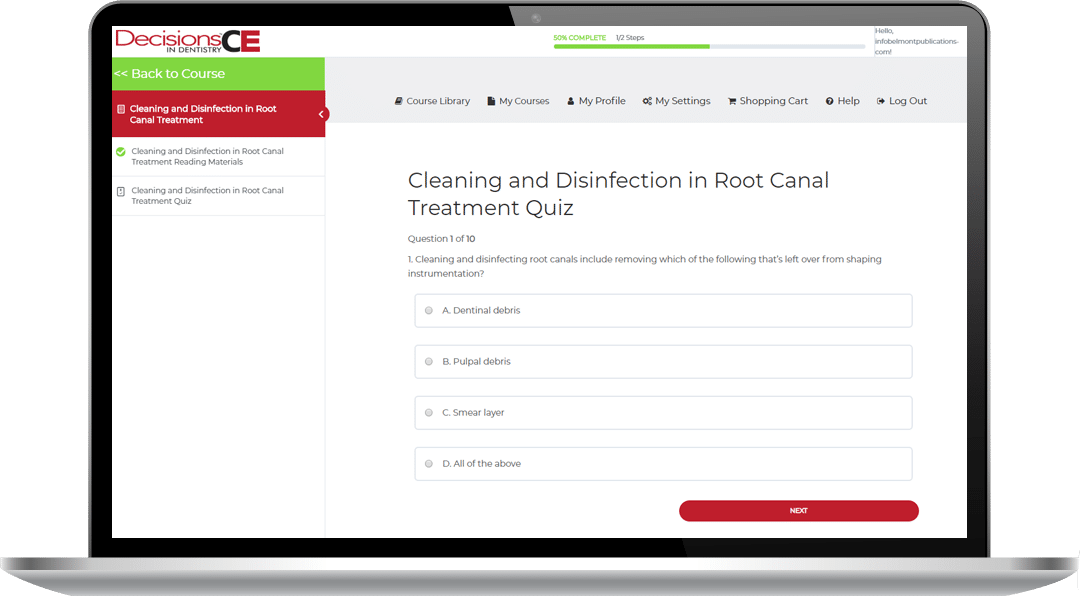 BRAND NEW


Distraction-Free Learning Center

Our new distraction-free learning center aims to eliminate distractions and streamline your  learning experience—increasing learning retention and completion rates.
CE Certificates on Demand
We understand that it's important to be able to access to your records when you need them. With Decisions CE, you can store and print your certificates from home, conveniently at any time.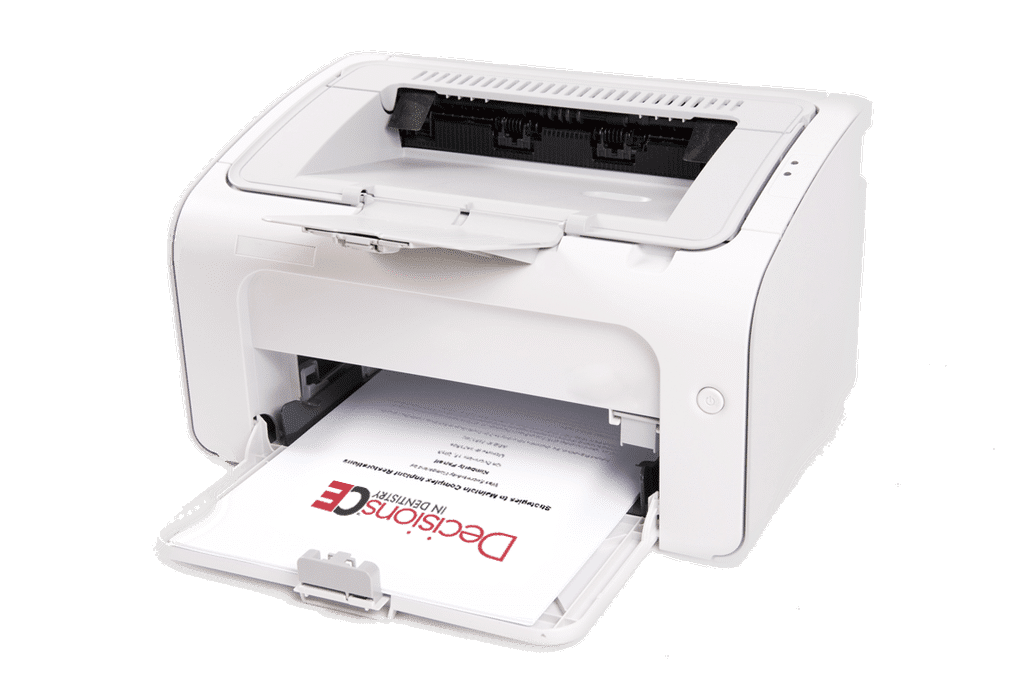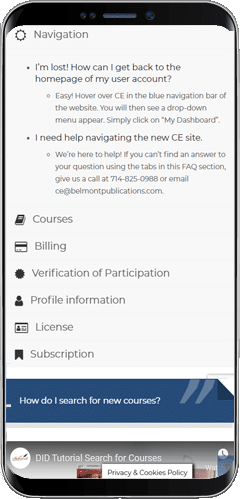 Help When You Need It
Customer service representatives are ready to help when you need it. Give us a call Monday through Friday from 8 am to 4 pm PST at 714-825-0988, or email ce@belmontpublications.com. After hours? We have a great help center that includes our most frequently asked questions as well as videos to demonstrate how to use the website. Visit our help center here.
All from the Comfort of Your Own Home
It's easy to get started. Simply register for your free user account and start browsing around today!
Continuing Education Program Information
Provider Information
This CE program has been developed by Belmont Publications, Inc. For questions regarding a specific course or the administration of the CE program, call Belmont Publications, Inc. at (714) 825-0988, or email ce@belmontpublications.com. Hours of operation: Monday to Friday 8 am to 4 pm Pacific Time. After-hours service by email only; we will make every attempt to contact you as quickly as possible. These courses are available through Decisions in Dentistry or online at decisionsindentistry.com. All or part of the CE credit offered is accepted in most states that require CE. It is the responsibility of each participant to contact his or her state board for its specific requirements.
Audience
These courses are intended for dentists, dental hygienists, and dental assistants.
Educational Method
The educational method used is electronically mediated self-study. Post-tests are included and must be submitted with payment in order to receive course credit.
Cost
The cost of this activity is $22 for one course, $44 for two courses, $66 for three courses, or $88 for all four courses.
CEUs
The participant will receive verification of participation (VOP) of designated credit hours for each course that is successfully completed.
Payment Options
Payment can be made by personal check (requires three business days for processing after receipt) or any major credit card. Returned checks are subject to a $30 fee. No test will be processed until all applicable fees are received. Participants using the online answer sheet must pay using the secure online payment system.
Testing
To receive course credit, a participant must take and submit a passing post-test exam. The post-test exam and answer sheet are included with each CE activity.
Scoring
For each course, participants must answer at least 70% of the post-test questions correctly in order to receive CE credit. Participants who submit an answer sheet online will have four attempts to submit a passing exam.
Verification of Participation
VOP will be sent via the option noted on the answer sheet (mail, fax or online CE member account) within three weeks of receipt. Participants using the online answer sheet will receive VOP immediately after submitting a passing exam. Belmont Publications, Inc. maintains records of CE credit for a minimum of six years. Participants who have member accounts can access their documentation online. Contact Belmont Publications, Inc. to receive copies via another method.
Course credit is verified on the date when a passing answer sheet is received via online, email, fax, or by the date of postmark.
Member Account
Participants can register for a free member account at decisionsindentistry.com. For easy recordkeeping, we will maintain VOP for all courses taken through Decisions in Dentistry or online at decisionsindentistry.com. These records can be accessed and printed anytime by using a unique member name and password that is set during the registration process.
Cancellation/Refund Policy
Course fee refunds are available for unexpired courses for which a VOP form has not been awarded. If the course has expired, we will exchange it for a current course of your choice that matches the credit hours of your expired course. A refund will be returned in the original form of payment and will be issued within 24 hours of the request. For credit card refunds, please allow up to five business days for processing. To receive a refund or exchange, either call our CE department at 714-825-0988 or submit a written request, including the reason for the request, to ce@belmontpublications.com.
Feedback
To give feedback on a CE course or the administration of the program, please email ce@belmontpublications.com.
Limited Knowledge Statement
The information presented in this CE module may not be comprehensive enough for participants to implement a new technique or therapy into practice. It is recommended that readers seek additional information as required. Disclaimer CE modules are reviewed for adherence to the guidelines set by the ADA CERP program. However, Belmont Publications, Inc. makes no warranty as to the reliability, accuracy, timeliness, usefulness, or completeness of the information presented within this CE module.

Belmont Business Media is an ADA CERP-recognized provider.
ADA CERP is a service of the American Dental Association to assist dental professionals in identifying quality providers of continuing dental education. ADA CERP does not approve or endorse individual courses or instructors, nor does it imply acceptance of credit hours by boards of dentistry.
Concerns or complaints about a CE provider may be directed to the provider or to the Commission for Continuing Education Provider Recognition at ada.org/cerp.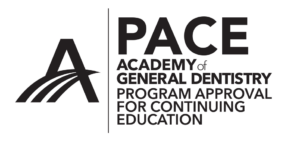 Belmont Business Media
Nationally Approved PACE Program Provider for AGD/MAGD credit.
Approval does not imply acceptance by
any regulatory authority or AGD endorsement.
7/1/2023 to 6/30/2026.
Provider ID# 317924