Marketplace April 2022
A listing of featured products.
SMALLER, LIGHTER ELECTRIC HANDPIECE
Bien-Air Dental (800-433-BIEN; bienairusa.com) is excited to launch Nova, a new contra-angle electric handpiece that delivers innovation, ergonomics and reliability. Designed to be small, quiet and clinically versatile, the Nova significantly reduces the surfaces that contact the fingertips, yet without a corresponding increase in vibration. The small head and slim handle enhance the clinician's field of vision and allow easier access to the oral cavity. The head also features the Accu-Spray Quattro Mix system, which focuses four asymmetrical air/water sprays with laser precision. Connected to one of Bien-Air's LED motors, a multi-strand optical glass conductor simulates daylight conditions for exceptional visibility. The lightweight design reduces wrist fatigue, while the non-return valve and sealed head mitigate the risk of cross-contamination. Additionally, Cool Touch+ technology prevents heat buildup to reduce the risk of burns.
---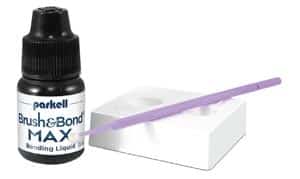 NEXT-GENERATION BONDING AGENT
Building on decades of success with Brush&Bond, Parkell (800-243-7446; parkell.com) introduces Brush&Bond MAX — a next-generation bonding agent designed for maximum performance. This single-bottle system provides excellent adhesion and high bond strengths; in addition, its simplified touch application presents an alternative to the scrubbing step. Brush&Bond MAX also treats dentinal hypersensitivity and seals crown preps with a durable surface coat during temporization. It is compatible with all light-cure, self-cure, and dual-cure methacrylate-based composites and cements. Suitable for all etching techniques, Brush&Bond MAX seals dentin, cementum and enamel, improves retention of most self-adhesive resin cements, and provides deep penetration into the tubules to promote the formation of a complex hybrid network that ensures long-term bonding.
---
INNOVATIONS ANNOUNCED FOR ALIGNER PLATFORM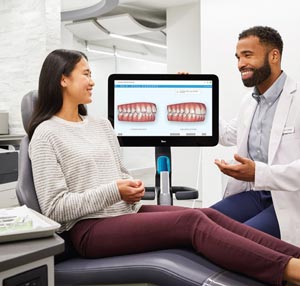 Align Technology (888-822-5446; aligntech.com) has announced a phased rollout of Invisalign upgrades for the Align digital platform. Among the innovations is a new feature in its ClinCheck Pro software. By utilizing ClinCheck Live Update for 3D Controls, clinicians can make changes to a ClinCheck plan prior to aligner fabrication. In addition, Invisalign Practice App is a new mobile companion to the Invisalign Doctor Site that streamlines workflows by putting many of the Invisalign treatment features into one convenient app. Similarly, Invisalign Personalized Plan is a new software feature that helps dentists achieve their desired treatment plans more consistently and efficiently. Finally, Invisalign Smile Architect supports orthodontic-restorative therapy by combining iTero intraoral scans, facial photos, and ClinCheck software to create facial renderings that help patients visualize their smile after Invisalign treatment and restorative care.
---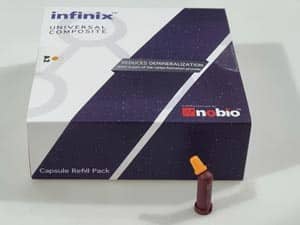 ANTIMICROBIAL RESTORATIVE LINE DEBUTS
The material sciences company Nobio (844-INFINIX; nobio.com) has announced the launch of infinix, a new line of advanced antimicrobial restorative materials designed to fight recurrent decay. Featuring enhanced handling and esthetics, the lineup — which includes an antimicrobial bonding agent and antimicrobial composites — is based on Nobio's patented QASi antimicrobial particle technology. The composite line, which debuted with universal and flowable materials, will grow later this year with the introduction of an antimicrobial bulk-fill product. Together with the bonding agent, this system is designed to provide long-lasting bacterial inhibition at the restorative margins, reduce tooth demineralization, and minimize restoration failure due to secondary caries.
---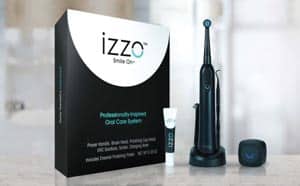 FOUR-IN-ONE HYGIENE SYSTEM INTRODUCED
Introduced by Premier Dental (888/670-6100; premierdentalco.com), izzo is an innovative, direct-to-consumer initiative designed to optimize self-care. Described as a four-in-one system that elevates the typical toothbrush approach, izzo features a three-speed oscillating toothbrush as the centerpiece of a polishing system that includes an interchangeable polishing cup, as well as a scaler to remove debris and plaque from hard-to-reach areas. The system also comes with a sanitizer case designed to kill pathogens that can linger on the brush head between uses. Learn more at izzosmile.com.
---

DISPOSABLE BITEWING FEATURES INTEGRATED BARRIER
The Wingers Integrated Barrier disposable bitewing, new from Steri-shield (800-699-7220; steri-shield.com), features three products in one. Unlike other sensor positioners, this product provides a sensor holder inside a comfort padded, elastic infection control barrier. According to Steri-Shield, this reduces clinical setup time to obtain a radiological image from approximately 60 seconds to five seconds, and saves the costs of purchasing three separate items. In addition, the seamless elastic barrier eliminates micro holes which may occur in the heat-sealed seams of plastic film sensor barriers. This disposable device fits all Size 2 sensor holders on the market, and each bag of 60 pieces includes a sterilizable aimer ring and bar.
From Decisions in Dentistry. April 2022;8(4)45.