April 2023 Marketplace
Products that practically sell themselves.
PRACTICE MANAGEMENT SOFTWARE AUTOMATES KEY BUSINESS FUNCTIONS
Whether it's running on premise or in the cloud, XLDent (800-328-2925; xldent.com) practice management software provides an intuitive, robust and easy-to-use solution for dental offices large or small. As a dental practice management solutions leader, XLDent develops and supports software that automates key business processes. Offering tools to manage practices more profitably, its suite of features includes claims, electronic insurance eligibility, integrated payment processing, automated appointment reminders, and online scheduling. The software supports realistic restorative and periodontal charts, detailed progress notes, paperless forms, and automated patient check-in. Bundled service plans are available, and data conversion and training are included in most plans.
---
INNOVATIVE FIXED FULL-ARCH SOLUTION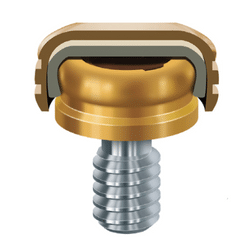 Zest Dental Solutions (888-645-0357; zestdent.com), manufacturer of the Zest LOCATOR abutment and implant systems, welcomes the newest member of the family: LOCATOR FIXED. With no new abutment required, the move to a LOCATOR FIXED full-arch solution is seamless, and in most cases requires less bone reduction and chairtime than traditional, screw-retained restorations. With this technology, clinicians can utilize patients' existing or newly placed LOCATOR abutments to provide a FIXED full-arch solution. This development allows providers to offer staged treatment planning — removable overdentures today, followed by FIXED full-arch tomorrow — simply by switching out the LOCATOR inserts and housings in the existing prosthesis, followed by fabricating a new appliance.
---
SHADE SELECTION EXPANDED FOR ZIRCONIA BLANKS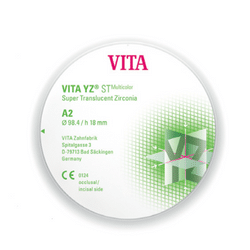 Reliable restorations that can be produced efficiently and precisely in the required shades are an everyday necessity in digital dentistry. VITA's (800-828-3839; vitanorthamerica.com) YZ ST offers just that: a quality material system with ideally matched components — and now seven new shades. The super translucent zirconia blanks are available in several versions — including VITA YZ ST White, VITA YZ ST Color and VITA YZ Multicolor — and are suitable for the production of monolithic, as well as partially veneered, crown and bridge restorations. With the addition of the new B1 and C1 shades, clinicians and laboratory technicians have nine VITA classical A1–D4 shades available. Four new VITA SYSTEM 3D-MASTER shades have also been added, including 1M1, 2M1, 3M1 and 4M1, as well as the special bleached shade 0M1 for even more brightness in the esthetic zone.
---
THREE-IN-ONE ENDODONTIC IRRIGATION SYSTEM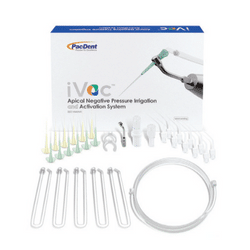 Pac-Dent (909-839-0888; pac-dent.com) has launched its iVac Apical Negative Pressure Irrigation and Activation System. Designed to be used during root canal irrigation and disinfection — preferably connected to a piezo ultrasonic handpiece — the system was created to address the three most important concepts for root canal irrigation: ultrasonic vibration, negative pressure, and concomitant irrigation. The iVac system boosts procedural efficiency by uniting these three irrigation fundamentals in a single device. This technology allows the fluid to travel through the entire canal to the working length, while the microstreaming effects ensure high debris removal. Adaptable to the majority of irrigation protocols and compatible with most piezo ultrasonic devices (type E or S), Pac-Dent's easy-to-use iVac supports safe and effective endodontic irrigation and disinfection.
---
ULTRASONIC SCALER ACCEPTS ALL LEADING 30-KHZ INSERTS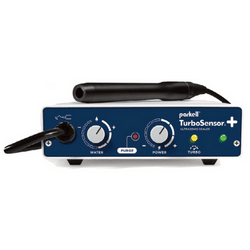 New from Parkell (800-243-7446; parkell.com), the TurboSensor+ ultrasonic scaler combines new features with the quality and performance of its decades-trusted predecessor, the TurboSensor. The updated scaler offers improvements in infection control reprocessing thanks to its detachable, autoclavable 30K handpiece. In addition, this device is truly an open platform. Built around a new IntelliSense processor, the TurboSensor+ ensures consistent performance with all market-leading 30K inserts. It also features a new tap-on purge mode for waterline cleansing, a priming mode for preparing the handpiece to begin scaling with the first compression of the foot pedal, and a superior water flow system for improved aerosol management. The scaler is offered in vibrant pearl, midnight blue, tangerine, lilac and electric blue shades.
---
HIGH PERFORMANCE LAB COAT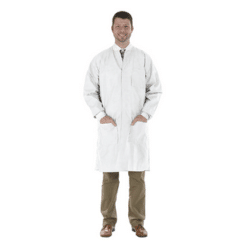 Function, fashion and fit. You can have it all with Medicom's (800-361-2862; medicom.com) SafeWear high performance lab coat, which is made from premium materials that provide superior protection, reliability and durability, while remaining soft, lightweight and breathable to keep operators cool and comfortable. This single-use solution eliminates the time and cost of laundering and can help reduce the risk of cross-contamination. The thoughtful design — which includes knitted cuffs and collar and front snap buttons — ensures ease of movement, secure closure, and easy donning and doffing. The fluid-resistant fabric meets industry standards for impact penetration and hydrostatic pressure. These latex-free lab coats are available in a wide range of sizes and colors.
---
From Decisions in Dentistry. April 2023;9(4):44.