March 2023 Marketplace
Products that practically sell themselves.
CROWN AND BRIDGE MATERIAL DELIVERS EXCELLENT MECHANICAL AND ESTHETIC PROPERTIES
MARK3 Crown & Bridge from Cargus International (845-267-2600; cargus.com) has a unique formulation that features excellent mechanical and esthetic properties for short-term and long-term provisionals. This material demonstrates exceptional strength and abrasion resistance, as well as a defined elastic phase for easy removal. MARK3 Crown & Bridge also features stable color shades with natural fluorescence. It produces minimal heat during polymerization and is easy to polish to a long-lasting luster. This flowable provisional material has a nonsticky consistency and stays where it is placed — with just the right amount of sag. It also offers strong margin integrity, which means less chance for fracture.
---
ORAL MOISTURIZING GEL DEBUTS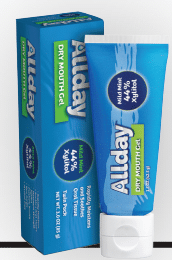 Allday Dry Mouth Gel is the newest addition to Elevate Oral Care's (877-866-9113; elevateoralcare.com) oral moisturizing product line. Allday Gel combats dry mouth differently than other moisturizing oral products. Its patented formula uses a special mucoadhesive hydrogel that works in concert with its maximum xylitol concentration to relieve xerostomia symptoms and improve oral health. Since patients with xerostomia are at high risk for caries, achieving a non-acidic oral environment is crucial for disease prevention. Allday Gel features a neutral ~7.0 pH that provides continuous buffering. It is also saturated with 44% xylitol, and the unique hydrogel formula holds xylitol in the mouth for extended periods, prolonging the bacteriostatic benefits.
---
LOUPES AND LIGHT SET OFFERED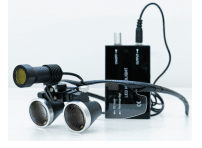 All dental professionals rely on their ability to see the true condition of the oral cavity. Toward this goal, Dental Accessories (+44-20-37699586; ­dentalaccessories.org) offers the Pro Set, its best bundle for oral healthcare providers. The Pro Set includes 3.5x dental loupes and a 5-watt LED headlight with a high-quality headlight filter that prevents early, unwanted polymerization of light-cured dental materials. The loupes are fully adjustable, which means clinicians don't have to submit measurements; operators simply adjust the interpupillary distance and lens angle to achieve a customized fit. And for those who wear prescription glasses, Pro Set loupes come with a special attachment that clips onto prescription eyewear.
---
ENDOSCOPE SUPPORTS BETTER PERIODONTAL TREATMENT

Endoscope-assisted periodontal therapy will change the way clinicians practice and have a profound effect on patients' oral and systemic health. OraVu's (480-884-1552; oravu.us) novel technologies and protocols are helping providers transition from traditional surgeries toward modern, minimally invasive outpatient treatment. For example, OraVu's Dental Vision Assistant (DeVA-1) micro-endoscope system leverages the company's Dental Xplorer hand instrument and Vision & Rinse Safety Sheaths. Combined, they provide superior performance, resolution, and safety for minimally invasive nonsurgical periodontal therapy. The DeVA-1 delivers high-definition images of the subgingival pocket for the Visual-SRP procedure, which offers superior outcomes compared to blind scaling and root planing. This nonsurgical approach provides a potential alternative to gingival flap surgery and is designed to support successful periodontal treatment.
---
STERILIZATION POUCHES AID REPROCESSING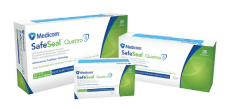 SafeSeal Quattro sterilization pouches from Medicom (800-361-2862; medicom.com) are made from high-quality porous medical paper and mechanically sealed with TruePress technology. The perforated fold facilitates precise folding of a wide self-adhesive strip to form an airtight seal. Internal and external multiparameter process indicators respond to three variables: time, temperature and saturated steam. Blue-tinted film makes it easy to view instruments and detect punctures or tears, while the convenient thumb notch allows team members to open the pouch without contaminating its contents.
---
CURING LIGHT ACCESSORIES LEND VERSATILITY

Lending versatility to its VALO Grand curing lights, Ultradent (888-230-1420; ultradent.com) offers accessory lenses that allows clinicians to use their VALO Grand in increasingly nuanced ways. The interproximal lens provides a focused 1 mm white light to help view interproximal caries. Ultradent's Proxicure ball lens holds matrix against contact while curing composite for Class II restorations. The Pointcure lens creates a 2.5-mm-diameter curing area to aid in positioning and tack curing. The Translume lens aids in detection of cracks or defects in a tooth or prosthesis. The black light lens fluoresces chemicals found in various dental materials, while the white light lens provides a pure, natural light to facilitate shade matching. VALO Grand curing lights use a custom, multi-wavelength light emitting diode to produce high intensity light at 385 to 515 nm through an optimally collimated beam capable of polymerizing all light-cured dental materials — including porcelain and underlying resin cements.
From Decisions in Dentistry. March 2023;9(3)45.