Mask Selection in Pandemic-Era Dental Practice
While dentistry has long been celebrated for embracing infection prevention protocols and guidance updates, nothing tested clinicians' mettle more than the COVID-19 pandemic.
While dentistry has long been celebrated for embracing infection prevention protocols and guidance updates, nothing tested clinicians' mettle more than the COVID-19 pandemic. With elective procedures and routine care effectively halted during the early stages of the outbreak, in the ensuing months patients and practitioners began to cautiously return to some stage of normalcy, especially with the advent of SARS-CoV-2 vaccines. As care resumed, the specter of COVID-19 placed renewed emphasis on personal protective equipment (PPE) as a means of controlling the spread of the virus and other pathogens.
Given the importance of choosing the right mask for the task at hand — and with the understanding that masks have been a cornerstone of practice for years — we wished to explore how guidance has changed since the pandemic, and how this has impacted oral health professionals. Noting that U.S. Centers for Disease Control and Prevention (CDC) guidelines for PPE have been revised several times since COVID-19 emerged, Kandis V. Garland, RDH, MS, an educator and frequent contributor on infection prevention topics, says the current guidance is clear. "An N95 respirator (or the equivalent) is recommended for aerosol-generating procedures, such as the use of high-speed handpieces and ultrasonic scaling, while surgical masks can be used for other tasks that are non-aerosol generating," she reports.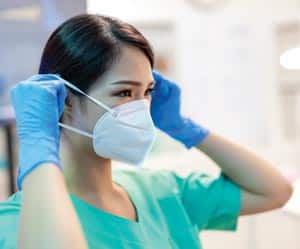 Recognizing that N95 respirators are "challenging to get used to," Garland says proper fit testing helps, and that it's simply a matter of getting used to a tighter-fitting seal. "Going forward, it's possible — and perhaps likely — N95s will become routine in practice, even as the pandemic fades," she predicts.
"Current guidance from CDC states that for non-aerosol-generating procedures (such as exams or sterilization processing) that might involve splash or spatter, clinicians should adhere to standard precautions. This means wearing a surgical face mask, eye protection (face shield or goggles), a gown or other protective clothing, and gloves," she notes. "For aerosol-generating procedures, CDC recommends the use of standard precautions, as well as an N95 respirator (or the equivalent) rather than a surgical face mask."
When asked to expand on N95 equivalents, Garland says alternatives include disposable filtering facepiece respirators, powered air-purifying respirators or elastomeric respirators. All of which should be used in the context of a comprehensive respiratory protection program, she adds.
Knowing that some providers have utilized a double-mask technique during the pandemic, Garland observes, "There is no recommendation for double-masking from CDC or any other agency. Double-masking does not provide double protection or any added benefit. In fact, it might even be detrimental, as it is difficult to breathe, creates gaps rather than a seal, and, ultimately, is more costly." 
One significant change in PPE practices during the pandemic is the increased use of face shields and goggles, a development that aligns with current guidelines. "Face shields are one option CDC recommends for protective eyewear and for additional splash/spatter control so the mask or respirator does not become as wet and contaminated. A wet mask can lead to microbial wicking that renders it ineffective," she says.  
While PPE choices remain a personal decision, Garland reminds us that new science is always emerging, adding, "Continual revisions of evidence-based guidelines will continue as we learn more about COVID-19 — but, in the meantime, clinicians are advised to follow CDC best practices to ensure safe care." 
From Decisions in Dentistry. April 2022;8(4):46.