Advantages of Custom-Milled Implant Abutments
Clinicians are leveraging in-office milling to provide comprehensive and reliable dental implant solutions.
Dental implant therapy is an increasingly important part of modern practice, and one key to successful outcomes is the clinician's selection of implant components. Fortunately, today's provider has more options than ever before — including the choice of using stock or custom abutments. As the supporting component for attaching the superstructure to the implant body, abutments play a vital role in the overall success of therapy. A well-designed abutment can enhance support stability, as well as the overall esthetics of the implant restoration. 
Manufactured in standard sizes and commonly used with tissue- and bone-level implants, stock abutments are available in straight and angled styles to allow some adaptation to individual patient needs. Yet because the tissue will eventually fit the shape of the abutment, it may be difficult to ensure optimal emergence contours. This lack of a perfect fit can also mean less tissue support to adjacent teeth. In addition, utilizing stock abutments can make it difficult for the dentist to exercise precise control over the restoration's final margin placement.
In light of these challenges, custom-milled abutments are becoming the new standard of care. Custom abutments provide a more precise fit, which results in fewer chairside visits and adjustments. Besides offering the flexibility needed for a passive fit and prosthetic correction of implant angulation, they also improve esthetics. In addition, custom abutments allow clinicians to create an ideal emergence profile that promotes healthy tissue development and enables margins to be placed uniformly below the gingiva. All of these factors contribute to the overall success of the implant-supported restoration, as well as patient satisfaction with implant performance and esthetics.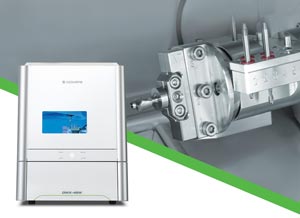 CUSTOM ABUTMENTS MADE EASY
The ongoing evolution of digital design and milling technologies has provided efficiencies in all aspects of implant restoration. This also applies to custom abutments. The digital workflow advantages of an improved fit, faster turnarounds, and greater control over design and production mean that a custom-milled abutment is often price competitive with a stock abutment. 
As these clinical benefits have become more widely recognized, in-office custom-abutment production has become a bigger priority for implant providers. Custom abutments are available in a variety of durable materials, including titanium, which remains a reliable and popular choice. 
START-TO-FINISH IMPLANT SOLUTIONS
While some clinicians continue to outsource the fabrication of custom abutments and prostheses, many have opted to bring fabrication in-house with chairside milling solutions, such as Roland DGA's DGSHAPE DWX-42W mill (Figure 1) and AK-1 abutment accessory kit. This setup allows clinicians to offer full-service implant restorations in-house, while eliminating the time and expense of outsourcing custom abutments and implant-supported restorations. Together with the DWX-42W chairside mill, the DGSHAPE abutment kit enables custom fabrication of pre-milled titanium blanks in about 50 minutes. By taking milling in-house, dental professionals can provide a more precise fitting custom titanium abutment and implant-supported crown, while maintaining greater control over esthetics and support. 
CONCLUSION
Dental implants represent a growing market for many practices. In response, leading abutment manufacturers — such as NT Trading, DESS, MEDENTiKA and GeoMedi — offer pre-milled titanium blanks that facilitate in-office fabrication of custom abutments.
Equipping your office with a DWX-42W mill and AK-1 abutment kit makes offering custom solutions an easy and natural extension of your existing digital workflow. The ability to design and manufacture custom abutments and restorations in-house not only supports better treatment planning, it also helps improve long-term outcomes. 
Roland DGA, DGSHAPE Americas
800-542-2307
dgshapeamericas.com/dentist
From Decisions in Dentistry. April 2022;8(4)24.