Marketplace
A listing of featured products.
CORDLESS OBTURATION DUO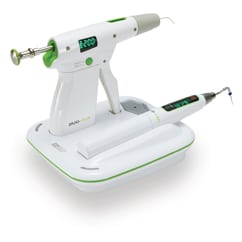 The DiaDuo by DiaDent (877-342-3368; diadent.com) includes a Duo-Gun and Duo-Pen in one cordless obturation system. The Duo-Pen, a warm vertical compaction device, features an ergonomic, lightweight design that makes it easy to hold, clean and store. Indicated for left-handed or right-handed dentists, the Duo-Gun's compact design allows freedom of movement and houses a power button and display window on each side of the unit. The Duo-Gun can be operated with minimal effort, as the hand trigger is described as being extremely easy to control.
FLEXIBLE DIGITAL SENSOR AIDS COMFORT
KaVo (866-528-6537; dexis.com) introduces DEXIS FS Ergo, a flexible digital intraoral X-ray sensor that's said to create exceptional comfort for patients. The FS Ergo pairs newly developed flexible sensor technology with a soft housing. The proprietary holder system is designed to accommodate the flex of the sensor and adapt to each patient. The housing is resistant to bite marks and also submersible, so it can withstand a wide-range of disinfectants. Its contoured positioning system protects the cable from wear and tear. The FS Ergo is described as helping to minimize the need for retakes due to patient movement caused by discomfort, thereby enhancing practice efficiency.
LIGHT-CURE BASE MATERIAL DEBUTS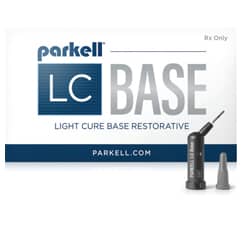 Parkell (800-243-7446; parkell.com) has launched a light-cure composite, LC Base Restorative. Featuring high flow and self-leveling consistency, LC Base is said to conform to irregular, deep preparations prior to topping off with Parkell's HyperFIL dual-cure, bulk-fill resin or any conventional composite. This new material acts as an ideal flowable resin for use in anterior or posterior restorations. Containing a proprietary, lowshrinkage resin, it allows clinicians to bulk fill in up to 4-mm increments and helps ensure reliable marginal seals. LC Base is available in a universal (A1/A2) shade.
COMPREHENSIVE PANORAMIC RADIOGRAPHY SYSTEM OFFERED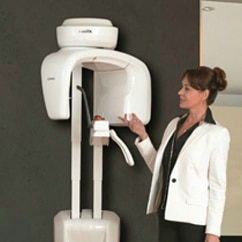 Owandy Radiology (203-745-0575; owandy.com) has received U.S. Food and Drug Administration 510(k) clearance for the I-Max 2D. This wallmounted unit provides a balance of value and functionality. The I-Max 2D is reportedly the lightest wall-mounted digital panoramic unit on the market and comes fully assembled to allow for easy installation in tight, underutilized spaces. An Automatic Layers Integration System ensures exceptional image quality and automatically selects the best images; in addition, 24 programs — including adult and child settings — enable a full range of examination modes. Designed as a plugand- play unit, additional features include an intuitive, user-friendly program interface, no required calibration or adjustments, and remote technical support and instructional videos.
POWERFUL ULTRASONIC TECHNOLOGY ON TAP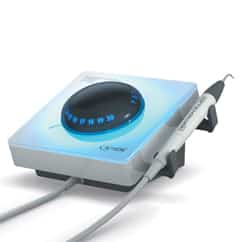 Acteon (800-289-6367; acteonusa.com) offers its Newtron piezo ultrasonic devices. When combined with high-quality tips, the Newtron technology available in the Newtron Booster, Newtron B.LED and Newtron B.LED X provides efficacy, safety and comfort during any procedure. Tips are available for a range of treatments, including periodontics, endodontics, implant care and more. These units offer excellent tactile sense for the dental professional, automatic power regulation, and carefully controlled vibrations for precise and gentle treatment. An inclined front panel allows easy accessibility to the settings and handpiece.
ORGANIZE ANY OPERATORY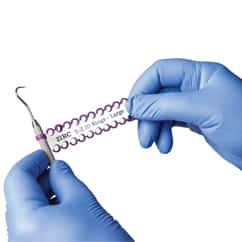 Zirc's (800-328-3899; zirc.com) E-Z ID Rings and Tape make it easy to identify instruments and containers in the operatory. Available in a prepackaged dispenser, E-Z Rings are color-coded to help clinicians effectively organize any operatory. Offered in small, large and extra-large sizes to fit all instrument handles, E-Z ID Tape comes in several colors to help dental teams keep their practices organized by using the tape to label containers per content. The tape dispenser has a built-in cutter and a special roller that prevents tape from twisting.
POLISHERS IMPROVE CLINICAL EFFICIENCY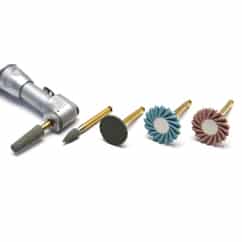 Clinician's Choice (800-265-3444; clinicianschoice.com) has added ASAP INDIRECT+ to its product line. Designed to refine and polish all indirect ceramic restorations, including zirconia, lithium disilicate and porcelain, ASAP INDIRECT+ polishers are manufactured with a strong and wear-resistant silicone binder that allows the diamond particles to tenaciously adhere to the polishing surface, while also improving contact during polishing. The system is indicated for all tooth surfaces, occlusal, lingual, interproximal or facial, and is said to provide quick polishing and excellent results.
NEW FIRING UNIT FOR CHAIRSIDE RESTORATIONS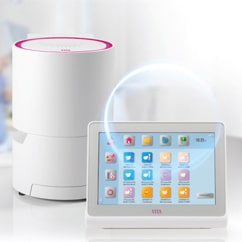 VITA North America (800-828-3839; vitanorthamerica.com) has introduced the VITA SMART.FIRE, which allows restorations to be completed chairside, even monolithic ceramic restorations. Designed to meet the needs of dentists who mill chairside, this compact firing unit is described as being fast and efficient. This system also provides crystallization, glaze, stain and corrective firing. Materials can be selected in one simple step, thanks to an intuitive user interface and customizable, material-specific programs that are preinstalled for simple firing. Features include a fully automatic temperature calibration for reliable results, a software- based assistance function for step-by-step firing, and an integrated service drawer for quick access to firing trays and platinum pins.
POST-EXTRACTION BLADE EASES PROCEDURES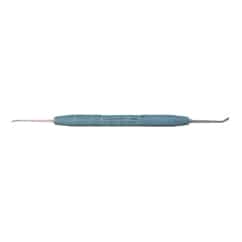 Developed with periodontist Scott H. Froum, DDS, the Slade Blade from PDT (800-240-9895; pdtdental.com) is a post-extraction blade designed for efficient removal of cystic infected tissue and granulation tissue. The blade's design is said to create a cleaner socket, which is vital when preparing for implant placement. Its wide resin handle reduces hand strain, fatigue and pinch. In addition, the Slade Blade's knurled grip extends to the shank to provide a more secure grip, meaning clinicians can use a lighter grip without sacrificing tactile sensitivity. This instrument is available in five styles and sizes to allow more convenient access to posterior and anterior areas.
MATTE FINISH PRINT RESIN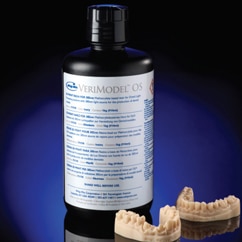 Whip Mix (800-626-5651; whipmix.com) has introduced a three-dimensional print resin for dental models printed on open digital light processing printers with a 385 nm light source. The company describes VeriModel OS as a highly accurate and stable resin that provides high-resolution detail. Designed to handle any model requirement, this print resin boasts low shrinkage and long-lasting durability. The natural ivory color is said to give a visual contrast to waxes, but does not influence the color of tooth-shaded restorative materials. This product features an easy-to-clean, smooth matte finish and resists settling and pigment separation.
CERAMIC SPRAY GLAZE INTRODUCED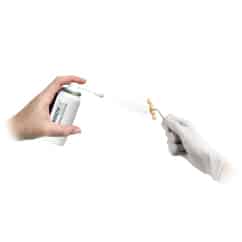 Keystone Industries (800-333-3131; keystoneindustries.com) has introduced Enamelite Low-Fusing Fluorescent Ceramic Spray Glaze. This product stains and glazes ceramic units in one firing, as fluorescence is built into the glaze. Easy to use, it promises shade-matching under natural and artificial lighting for zirconia and lithium disilicate restorations, and dries faster than brush-on applications. It is said to be compatible with all dental ceramics.
HANDS-FREE SUCTION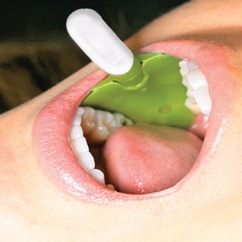 Kulzer (800-431-1785; kulzerus.com) has launched Ivory ReLeaf. This high-volume evacuation device is described as a patient-friendly system that connects effortlessly to existing vacuum lines and provides comfortable, hands-free suction. It is designed to work in all four quadrants and provide a full view of the oral cavity — without the need to be moved around. Using the cheek and vestibule areas for support, it allows patients to move their heads and communicate, without affecting suction. Patients will also appreciate that gag reflexes are rare with the device, as it does not reach the soft pallet or obstruct the airway.
From Decisions in Dentistry. April 2018;4(4):58-59.