Marketplace
Products that practically sell themselves.
LASER SYSTEM ADDS CLINICAL VERSATILITY
Solea from Convergent Dental (800-880-8589; convergentdental.com) is a computer-aided, CO2 laser system cleared by the U.S. Food and Drug Administration for hard, soft and osseous tissue indications. According to Convergent Dental, use of this unit allows anesthesia-free, blood-free, suture-free and pain-free procedures, which enhance the patient experience. It also facilitates multiquadrant dentistry and saves chairtime, while enabling dentists to perform more procedures themselves rather than having to refer patients.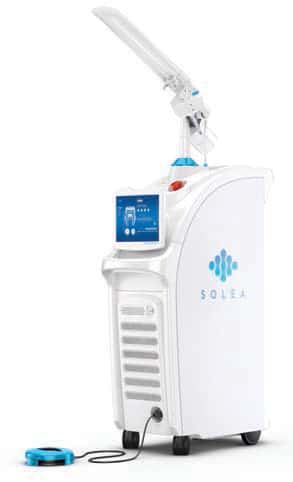 STERILIZER FEATURES RAPID CYCLES
The COX Rapid Heat Sterilizer 6000 from CPAC Equipment (800-828-6011; cpacequipment.com) is a high-velocity, high-temperature system that sterilizes wrapped instruments in 12 minutes, or unwrapped instruments in six minutes. This unit does not require water, steam or chemicals — which eliminates the need for a drying cycle and limits instrument corrosion, pitting and dulling. Energy efficient, it can sterilize more than 200 instruments per hour in double-decker cassettes. The fast turnaround eliminates the temptation of staff to bypass or shorten cycles.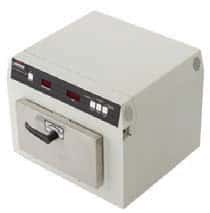 XYLITOL-BASED ORAL SPRAY HELPS MAXIMIZE RELIEF
Ideal for xerostomia patients, Allday Dry Mouth Spray from Elevate Oral Care (877-866-9113; elevateoralcare.com) is formulated to soothe oral tissue and help keep the mouth healthy. The extended-release formula contains 44% xylitol, providing continuous xylitol exposure throughout the day. Formulated without alcohol or artificial sweeteners, it has a mild mint taste.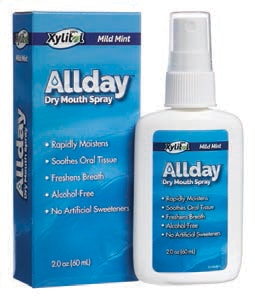 FINISHING SYSTEM WORKS ON A VARIETY OF CERAMICS
The new Jiffy Universal Ceramic Finishing System from Ultradent (800-552-5512; ultradent.com) is a finishing solution in which all adjustors and polishers work interchangeably on porcelain, lithium disilicate and zirconia. Each kit (extraoral or intraoral) contains a variety of components on an autoclavable aluminum block. The system features Ultradent's special diamond grit that's designed to create a smooth, high-gloss finish. By eliminating the need for multiple grinders and polishers, Jiffy Universal can save clinicians time and mone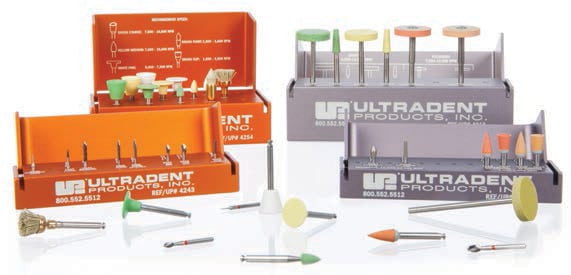 TEMPORARY CROWN AND BRIDGE MATERIAL USES NANOTECHNOLOGY
GC America (800-323-7063; gcamerica.com) now offers Tempsmart — a dual-cured, bisacrylic composite temporary crown and bridge material. Tempsmart uses microfilled resin and nanofiller technologies, a combination that reportedly provides a smooth surface after polishing. This cement is indicated for temporary crowns, bridges, inlays, onlays and veneers, as well as long-term temporary restorations. According to GC America, benefits include fracture toughness, esthetics, high flexural strength, and quick working and setting times. It's available in 48 ml cartridges or 10 ml syringes.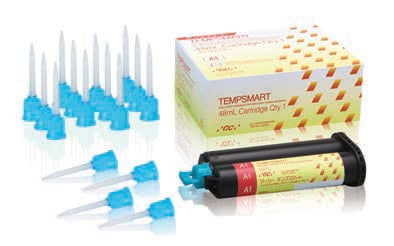 MULTI-TRAY COMPLEMENTS COMPOSITE WARMER
AdDent (855-211-3413; addent.com), introduces the Multi-Tray for its Calset Composite Warmer. The Multi-Tray holds one composite dispenser, four compules, and two composite syringes while warming two finishing instruments. The tray, which fits on top of the Calset heater base, can be purchased separately or as a complete kit. Research articles on the advantages of warming composites can be found on the company's website.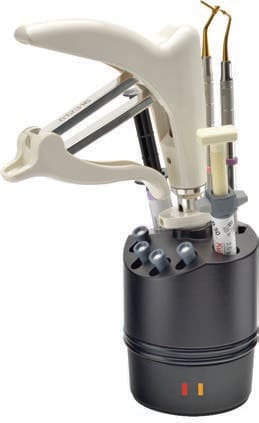 COLOR-CODED LINEUP GETS DRESSY NEW JEWEL TONES
Promising to take practices from dull and unorganized to bright and efficient, Zirc (800-328-3899; zirc.com) has announced new color-coding shades for its office organization products. The jewel-toned colors — midnight blue, plum, copper, red, gray and teal — can be integrated into office processes while providing visually pleasing chairside setups.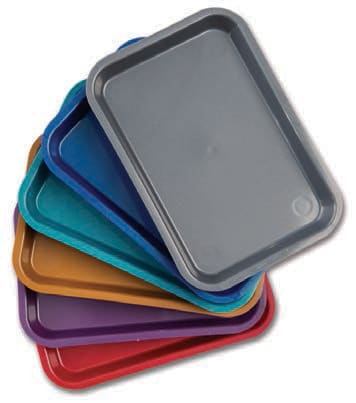 CEREC ZIRCONIA WORKFLOW INTRODUCED
Dentsply Sirona (800-877-0020; dentsplysirona.com) has unveiled its CEREC zirconia and SpeedFire sintering furnace. Using the CEREC zirconia workflow, dentists can deliver full-contour crowns and small bridges in a single visit. This new, all-ceramic material is a translucent zirconium oxide that's available in 10 shades. It is milled in enlarged form and densely sintered to its final size in the SpeedFire. The sintering process is said to take 10 to 15 minutes for crowns and less than 30 minutes for bridges. Besides saving time and office visits, patients benefit by needing minimal anesthetic and avoiding the hassle of provisional restorations.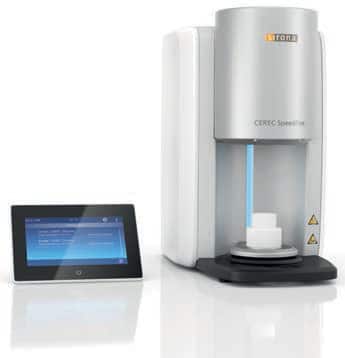 SCANNER OFFERS PRECISION, ACCESS AND CONTROL
Straumann (800-448-8168; straumann.us) has launched the Straumann CARES Intraoral Scanner by Dental Wings, a digital dentistry solution that uses a patented, threedimensional capture technique called Multiscan Imaging. The system features a compact handpiece for patient comfort and optimal clinical access. Visual and audible feedback allows practitioners to focus on the patient, not the screen. Optimized gesture control and voice command allow touch-free operation. As part of the Dental Wings system of open digital technologies, this scanner lets clinicians choose between open architecture and proprietary workflows.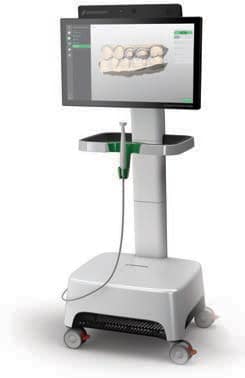 BLENDED-NECK BUR RESISTS BREAKAGE
The new NeoBurr 5572 blended-neck carbide bur by Microcopy (800-235- 1863; NeoBurr.com) promises a much-needed solution for clinicians who routinely experience carbide breakage. The 5572's strength stems from single-piece construction and a blended-neck design that's said to remove weak points that might result in breakage. In addition, the bur's concentric design minimizes vibration to help reduce chatter.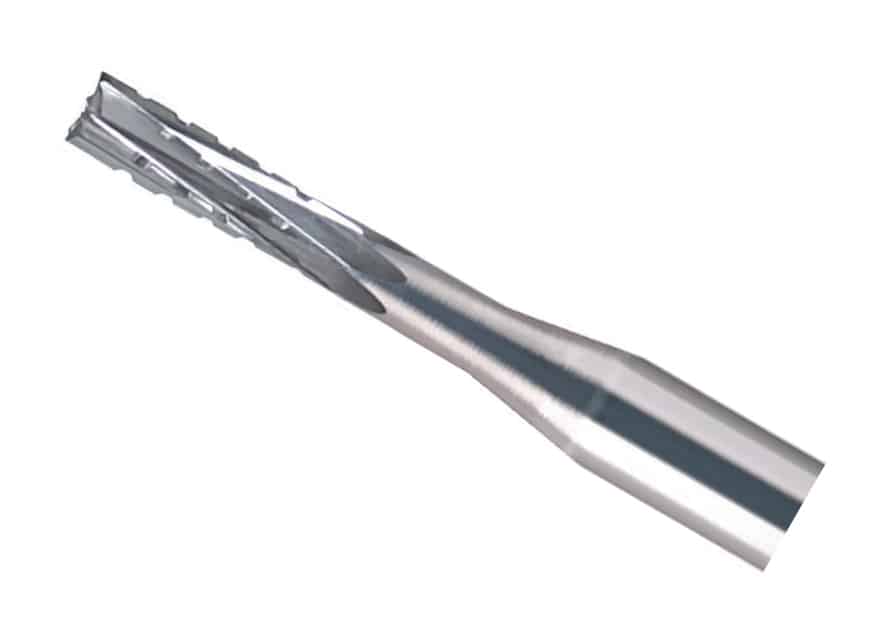 RESIN PROVIDES PROTECTION DURING RESTORATIVE CARE
A light-cured resin for implant and cosmetic dentistry, Liquid Magic Resin Barrier by Taub Products (800-828-2634; taubdental.com) is formulated to protect threading, screws and internal components of implants and abutments. Used before placement of a crown, Liquid Magic works in with ZERO-G Bio-Implant Cement, resulting in effective setting and easy cleanup. Taub reports that Liquid Magic is easily removed during recall, which allows clean access to implant screw heads.

LOUPE DESIGN EASES NECK PAIN
The newly released Ergo Max Loupes from SurgiTel (800-959-0153; surgitel.com) are clinician-friendly, through-the-lens (TTL) loupes built with the Ergo Max frame that's designed to prevent neck pain stemming from the use of traditional TTL models with small declination angles. The Ergo Max frame is said to effectively hold high-power Keplerian loupes (including 8.0X power), and allow custom declination angles for all loupe models. The frame features soft polymer temple arms, and pantoscopic tilt that enhances ergonomics.