Preparing for the Silver Tsunami
America's growing population of adults age 65 and older is one of the most significant factors shaping our current — and future — health care system.
America's growing population of adults age 65 and older is one of the most significant factors shaping our current — and future — health care system. Oral Health America (OHA), a Chicagobased nonprofit, has been at the forefront of advocating for oral health and access to care as rights of all older Americans — and not privileges for only those who can afford them. In its April 2016 report, "A State of Decay: Are Older Americans Coming of Age Without Oral Healthcare, Volume III," OHA notes that each month 250,000 Americans turn 65. It also reports that in 2010, 13% of the U.S. population was 65 or older — with that figure projected to jump to 19% by 2030. This represents a 46% increase in 20 years — and the federal Administration on Aging expects the trend to continue. This building "silver tsunami" is not only testing the U.S. health care system, it also presents challenges to older adults, many of whom have unmet oral health care needs stemming from a variety of factors. These include limited access to dental insurance, difficulties in accessing care, and a lack of programs that provide oral care for seniors.
Among the issues outlined in the report are what OHA characterizes as the "persistent shortage of oral health coverage" and a "critical lack of strategic plans to address the oral health of older adults." Medicare, the largest coverage provider for this patient population, does not offer adult benefits for routine dental care. And while state-run Medicaid programs have the option of offering adult dental benefits, eight states offer no such coverage and only four provide the maximum possible dental benefits (Figure 1).
As a result, many older adults seek dental treatment in hospital emergency departments. Others simply defer treatment or seek selective care, based on what they can afford. These disparities have led to a call for programs that address the needs of this patient cohort. One promising development is the reauthorization of the Older Americans Act. Signed by President Barack Obama in April, it now contains provisions to fund oral health screenings and related disease prevention efforts for older adults. There has also been positive movement on the state level. While there's still much to do, OHA reports that six states (Delaware, Florida, Maine, Missouri, North Carolina and Virginia) demonstrated significant improvement in their 2016 state rankings based on edentulism, community water fluoridation, Medicaid dental benefits, state oral health plans, and basic screening surveys.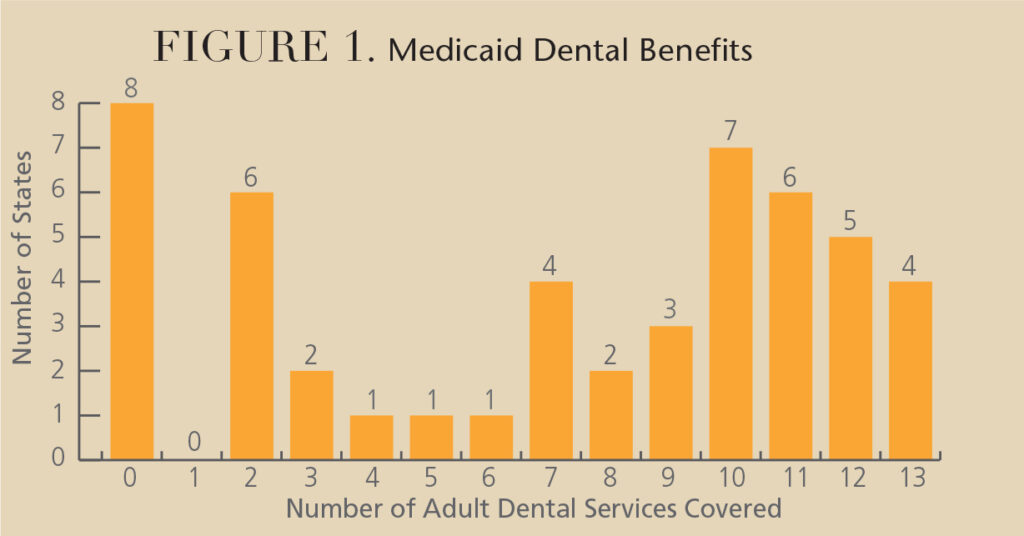 With the silver tsunami already upon us, the question facing dental providers, the health care system and America is how we can do a better job of meeting the oral health needs of our most experienced citizens.
References
Kiyak HA, Reichmuth. M. Barriers to and enablers of older adults' use of dental services. J Dent Educ. 2005;69(9):975–986.
Allareddy V, Rampa S, Lee MK, Nalliah RP. Hospital-based emergency department visits involving dental conditions: profile and predictors of poor outcomes and resource utilization. J Am Dent Assoc. 2014;145(4):331–337.