July/August 2019 Marketplace
A listing of featured products.
KULZER AND DENTCA LAUNCH PALA DESIGN STUDIO
Kulzer (800-431-1785; kulzerus.com) has launched Pala Design Studio, a web-based denture design platform powered by DENTCA. The new platform allows dental labs and clinicians to design dentures online using digital Mondial and Mondial i teeth, download the design files and print the denture. Pala Design Studio lets lab technicians design a denture case in less than 20 minutes. This design platform generates digital denture designs as STL files, and also offers ease-of-use, as teeth placement is reportedly intuitive. In addition, minimal manipulation is required after automatic placement, and adjustments are more user-friendly and natural looking.
CARIES INFILTRATION SOLUTION
Icon-Etch Refill etching gel by DMG America (800-662-6383; dmg-america.com) is now available to U.S. clinicians as an extension of the Icon Smooth Surface caries infiltrant line. Designed to effectively treat smooth surface white spot lesions, Icon is said to offer esthetic results. This microinvasive technology also arrests incipient caries upon discovery and helps clinicians preserve healthy tooth structure. Icon-Etch Refill is sold in three 0.45-ml syringes and comes with 15 smooth surface tips. ­
PRESCRIPTION-STRENGTH PEDIATRIC DENTIFRICE
Elevate Oral Care (877-866-9113; elevateoralcare.com) has launched Just Right 5000. This meter-dosed, prescription-only fluoride toothpaste was developed specifically for pediatric patients at moderate to high risk of dental caries. Pump-style dispensing provides a pea-sized dose (0.25 gram) with each pump or a smear-sized (0.125-gram) dose with a half pump, and children will enjoy the bubble-mint flavor. Used twice daily, Just Right 5000 provides six months of protection, and parents are sure to appreciate the pump's mess-free design.
VERSATILE DIGITAL RADIOGRAPHY SYSTEM
Air Techniques (800-247-8324; airtechniques.com) has added the ScanX Classic View digital radiography system to its ScanX View series. Its easy-to-use interface includes preset scan modes that are said to provide more reliable scanning, while a color touchscreen offers a preview of the scanned image. In addition, the ScanX Classic View features four slots for simultaneous scanning and enables digitization of phosphor storage plates for all intra­oral formats (sizes 0 to 4), as well as extra­oral panoramic and cephalometric plates. ­
SAFETY EYEWEAR ADDITIONS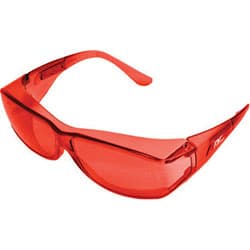 Palmero Healthcare (800-344-6424; palmerohealth.com) welcomes two additions to its ProVision safety eyewear line. The new eyewear provides oral health professionals and patients with eye protection during routine bonding procedures. ProVision Eyesaver Sleeks Red Frame/Red Bonding Lens is a line of ultralight goggles engineered to fit over prescription eyewear. They feature adjustable temples for a broader facial fit and integrated side shields for all-around eye protection. Palmero offers a red option that filters out the blue light rays generated during bonding procedures. The ProVision Infinity Replacement Lens and Bonding Lens are described as an upscale line of eyewear designed to reduce fogging and static, with unique tilt and telescoping features that ensure the eyewear adapts comfortably to any facial structure.
ROTARY GLIDE PATH FILE DEBUTS
KaVo Kerr (800-537-7123; kerrdental.com) now offers Traverse, a rotary glide path file that simplifies the process of establishing the glide path in root canal treatment by creating a more tapered path that reduces the shaping files' workload. This nickel-titanium file is engineered with a triangular cross section for optimal cutting efficiency and Kerr's Variable Heat Treatment technology for maximum flexibility and strength. Traverse files are presterilized and offered in individual blister packs, with four files per pack. The system features an 0.25/0.08 17-mm orifice opener, plus glide path files of 0.13/0.06 and 0.18/0.06 in lengths of 21, 25 and 31 mm. Traverse also provides a maximum flute diameter of 1 mm, and a noncutting tip to reduce the risk of ledging or canal perforation.
WHITENING TOOTHPASTE FEATURES NEW PACKAGING
Ultradent (800-552-5512; ultradent.com) has unveiled new packaging for Opalescence Go — its award-winning, professional take-home whitening system. The sleek redesign includes a new dispensing feature that allows patients to remove each individually wrapped tray with ease. In addition to the newly designed boxes and easy dispense system, patients will receive a 1-ounce tube of Opalescence Whitening Toothpaste in every full patient kit, which includes 10 individually wrapped, disposable, prefilled upper and lower UltraFit trays that mold to the teeth for a custom-like fit and molar-to-molar coverage.
From Decisions in Dentistry. July/August 2019;5(7):59.