Marketplace
A listing of featured products.
BITE REGISTRATION MATERIAL REPLACES FUTAR SCAN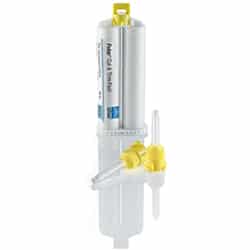 Kettenbach (877-532-2123; kettenbach.com) has introduced Futar Cut and Trim to help meet clinicians' bite registration needs. Replacing Futar Scan, this new scannable material has a working time of 15 seconds and an intraoral setting time of 45 seconds, for a total setting time of 60 seconds. Futar is nonslumping and will not flow off occlusal surfaces. In addition, clinicians will find the new blue shade improves readability. Featuring a final hardness of D-35, the material's rigid set minimizes the risk of vertical distortion when articulated. The line includes Futar, Futar Fast, Futar D, Futar D Fast, Futar D Slow, and Futar Cut and Trim, so clinicians can choose the ideal material for each case.
PINK EYEWEAR SUPPORTS BREAST CANCER FOUNDATION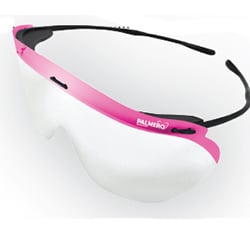 Demonstrating its commitment to breast cancer awareness, Palmero Healthcare (800-344-6424; palmerohealth.com) has added pink safety eyewear to its line of Dynamic Disposables. Palmero will donate 5% of the proceeds for every purchase of pink safety eyewear to the National Breast Cancer Foundation. Designed to reduce eye splash contamination incidents, Dynamic Disposables are a lightweight, cost-effective alternative to traditional protective glasses. These glasses can be worn comfortably over a clinician's prescription glasses. The lenses feature self-closing holes to prevent gaps and meet federal Occupational Safety and Health Administration and U.S. Centers for Disease Control and Prevention guidelines for protective eyewear.
VERSATILE IMAGING SYSTEM DEBUTS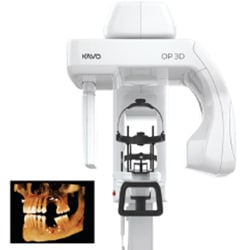 KaVo (888-ASK-KAVO; kavo.com) has expanded its KaVo Imaging Solutions line with the new KaVo OP 3D. This entry-level, three-dimensional imaging system will handle a range of diagnostic needs. It is a complete X-ray platform that makes the imaging workflow more efficient, thanks to its intuitive programs. The company says the system offers versatile programs for both panoramic and 3D imaging suited to a variety of users, from general dentists to maxillofacial surgeons and airway specialists. The OP 3D also offers efficient tools for optimizing the radiation dose due to the clinician's ability to select the best resolution, field-of-view size, and region of interest.
HANDPIECE LUBRICANT AND CLEANER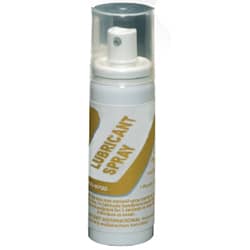 Mydent International's (800-275-0020; defend.com) Defend Ster-L Handpiece Cleaner and Lubricant is designed to help extend the life of dental handpieces. Its powerful formula is delivered in a metered, nontoxic, nonflammable spray to prevent waste. Ster-L's synthetic hydrocarbons withstand a substantial range of high (485° Fahrenheit) and low (-85° F) temperatures. This low-evaporation spray is said to prevent O-rings from drying out and maintains lubrication qualities during sterilization, protecting bearings and internal parts, as well as preventing handpiece oxidation and corrosion.
FLEXIBLE FILES FIT TIGHTLY CURVED CANALS
Miltex's (800-654-2873; miltex.com) Onyx-R files are made from nickel titanium, supplying clinicians with a file that features an ideal flex for use in tightly curved canals. Onyx-R files feature a non-cutting Roane tip that helps reduce the risk of ledging and transportation. Prebending files is not necessary, as Onyx-R files are designed to follow the existing canal path. The handles are color coded and printed with the file tip size for easy identification during clinical procedures. They are available in a variety of sizes, lengths and rubber stop configurations.
ERGONOMIC OPERATORY SETUP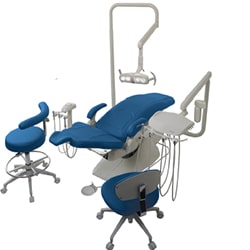 Beaverstate Dental Systems' (503-538- 8756; beaverstatedental.com) Helix Operatory System provides clinical versatility for right- or left-handed operators. This package features the company's new LED operatory light, which can be utilized as a diagnostic tool while examining the oral cavity. The Helix Operatory System chair has a button-activated double articulating headrest for optimal patient positioning. The package includes doctor and assistant stools, helix mount water bottle kit, Epic operatory chair, rear mount vacuum, and a three-piece automatic control top post-mount system. Custom options are also available.
EDENTULOUS TREATMENT SOLUTION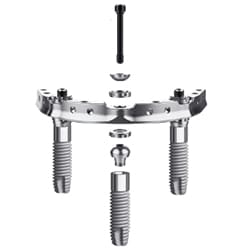 Nobel Biocare (800-322-5001; nobelbiocare.com) offers its Trefoil system to help oral health professionals treat edentulous patients and those with failing dentition. A passive fit is made possible by a fixation mechanism that compensates for horizontal, vertical and angular deviations in implant placement. Accurate drilling with standardized drill guides enables precise parallel implant positioning and placement suited for the passive fit technique. Compared to conventional treatments that use provisional restorations, the Trefoil system combines a premanufactured titanium bar, three implants, a simplified restorative workflow, acrylic prosthesis and minimal restorative components to facilitate shorter time-to-teeth and reduce chairtime.
NEW TINTED SILVER DIAMINE FLUORIDE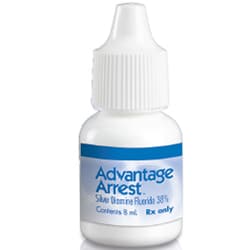 Elevate Oral Care (877-866-9113; elevateoralcare.com) now offers Tinted Advantage Arrest, a colored silver diamine fluoride material that enhances visualization during placement. Advantage Arrest was cleared by the U.S. Food and Drug Administration for use as a desensitizer in 2014 and received Breakthrough Therapy Designation for the arrest of severe early childhood caries in 2016. Tinted Advantage Arrest is available in 8 ml multidose bottles.
C-FILES DESIGNED TO BREAK THROUGH CALCIFICATION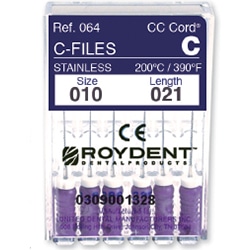 Roydent's (800-992-7767; roydent.com) C-Files make managing calcification in root canals more efficient. Designed to break through calcification, these instruments are crafted with heat-tempered steel for durability, and the stiff, yet flexible, design facilitates access to calcified canals. Featuring a noncutting tip, standard 0.02 taper, and sharp edges that are twisted to the tip, they are available in sizes 6, 8, 10, 12.5 and 15, in both 21 mm and 25 mm lengths. The preapplied silicone stops are color-coded by length (21 mm white; 25 mm yellow) for easy identification.
DENTAL MARKETING AND COMMUNICATIONS MADE EASY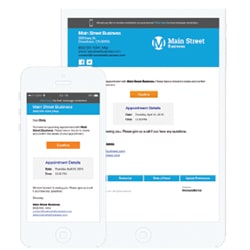 Demandforce (888-370-9881; demandforce.com) has added to its features suite, improving the company's easy-to-use online platform that helps dentists grow their practices and attract more patients. In addition to providing automated appointment reminders and confirmations, it allows offices to create targeted and customizable email campaigns, and set up online booking. Demandforce readily integrates with most practice management systems and offers two-way texting capability with patients. The improved functionality allows dentists to leverage patient data to advance recall and retention, and automatically collect and post reviews from patients to improve online reputation and expand the office's reach.
ALL SENSOR POSITIONER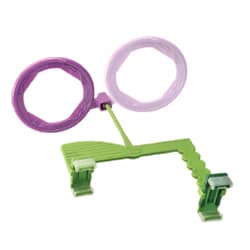 FlowDental (631-242-9729; flowdental.com) offers the Uni-Verse-All sensor positioner. Engineered to eliminate the need for extra parts, the Uni-Verse- All is said to work with any size sensor. Simply adjusting the height of the sensor holder allows clinicians to seamlessly transition from periapical to bitewing imaging in seconds — and without changing parts. This makes for easier, faster and more comfortable sensor positioning for patients. This sensor positioner is lightweight, reusable and autoclavable. A starter kit is available.
HANDPIECE SHAPE EASES ACCESS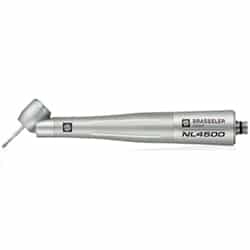 The ergonomic NL4500 handpiece from Brasseler (800-841-4522; brasselerusa.com) is designed to facilitate treatment of impacted molars. Featuring a 45-degree angle, the head design ensures maximum operator visibility and posterior access. This handpiece utilizes ceramic ball bearings and a triple-port design that delivers a water stream directly to the tip of the bur. It also provides the clinician with 21 watts of power, a push-button head and a lightweight design.
From Decisions in Dentistry. December 2017;3(12):52—53.