At a Glance
Keeping pathogenic microorganisms from collecting inside dental unit waterlines (DUWLs) can be challenging.
Keeping pathogenic microorganisms from collecting inside dental unit waterlines (DUWLs) can be challenging. But how big of a problem is it really?
Based on infection prevention protocols, the U.S. Centers for Disease Control and Prevention recommends that dental unit water employed in nonsurgical procedures should meet or exceed federal drinking water standards. Established by the U.S. Environmental Protection Agency, the standard is ≤ 500 colony forming units (CFU) of heterotrophic bacteria per milliliter (≤ 500 CFU/ml).1 To meet this, practices are advised to closely follow manufacturers' instructions for maintaining DUWLs and monitor water quality through regular testing. Mitigation strategies, such as filtration, chemical treatments and the installation of dental handpiece anti-retraction valves, can help offices ensure waterline integrity; practices can also use a water source that's independent of the public water system.1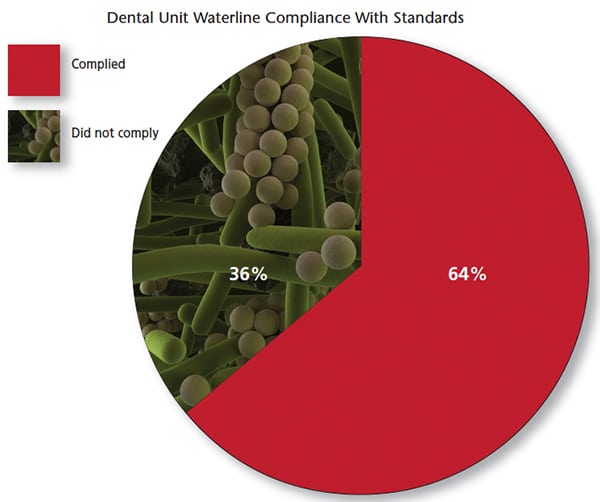 The challenges in ensuring DUWL water quality are not unique to U.S. practices, however. Results of a study in the state of Hesse, Germany, underscore the need for vigilance, as a random sampling of 90 waterlines over a three-year period found that more than one third failed to meet the recommended German drinking water standard of < 100 CFU/ml.2 Similar to U.S. recommendations, German protocols also suggest periodic DUWL testing to confirm asepsis.2

The study by researchers at the Hesse State Health Office suggests DUWL contamination is likely a bigger concern than many clinicians realize. While countries and professional organizations may set their own infection prevention standards, clinicians everywhere are likely to agree on the need to maintain dental unit water quality that will ensure the safety of patients and practitioners. In the end, however, regular maintenance and testing become a highly localized issue, as each practice must do its part to provide treatment water that allows safe care.
---
REFERENCES
American Dental Association. Oral Health Topics: Dental Unit Waterlines. Available at: ada.org/en/membercenter/oral-health-topics/dental-unit-waterlines. Accessed November 15, 2017.
Arvand M, Hack A. Microbial contamination of dental unit waterlines in dental practices in Hesse, Germany: A cross-sectional study. Eur J Microbiol Immunol (Bp). 2013;3:49–52.
From Decisions in Dentistry. December 2017;3(12):54.