Marketplace
Products that practically sell themselves.
PREMIUM POLISHER DOES DOUBLE DUTY
Hu-Friedy (800-HU-FRIEDY; hu-friedy.com) has announced an addition to its EMS air polishing line — the Air-Flow Handy 3.0 Premium. Using the Air-Flow Therapy system, this device performs both supra- and subgingival biofilm and stain removal. The system is said to be safe for tissue, enamel, root surfaces, orthodontic brackets, porcelain composite restorations, implants and implant abutments — and less messy than standard air polishers. The Premium unit, designed to be used with the company's glycine-based Air-Flow Perio powder, includes two handpiece attachments. For supragingival cleaning, the Plus handpiece is used on the tooth's surface to remove biofilm and light stain. For shallow subgingival cleaning, the Perio handpiece is directed at the sulcus to quickly clean biofilm at depths up to 4 mm.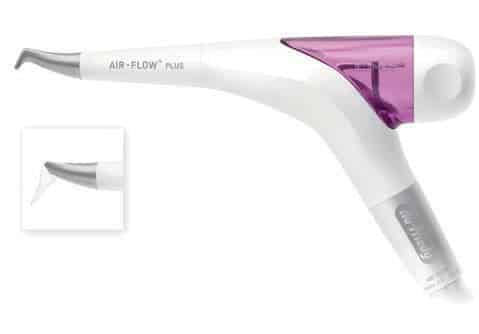 BONE-GRAFTING SYSTEM KEEPS IT SIMPLE
Sunstar Americas (877-484-3671; us.guidor.com) offers the Guidor Easy-Graft Alloplastic Bone Grafting System, marketed as an economical, simplified way for practitioners to achieve consistent clinical results. Capable of being syringed directly into a bone defect, it hardens into a stable, porous scaffold in minutes — allowing clinicians to choose whether a membrane is required. Guidor Easy-Graft is resorbable and billed as ideally suited for socket preservation after tooth extraction and implant packing. Each unit contains three single-use applications.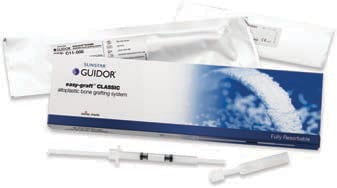 ANESTHETIC REVERSAL AGENT INDICATED FOR AGES 3 AND OLDER
Septodont (800-872-8305; septodontusa.com) announces that the U.S. Food and Drug Administration has reduced the minimum age for OraVerse. Previously indicated only for children age 6 and older, it now is approved for children as young as 3. OraVerse (phentolamine mesylate) is formulated to rapidly reverse lip and tongue numbness, as well as associated functional deficits resulting from an intraoral submucosal injection of a local anesthetic containing a vasoconstrictor The clinician administers OraVerse immediately after routine procedures. Septodont promotes the product for busy patients who need to return to their jobs, patients with diabetes who can't wait to eat after a procedure, and children who tend to chew their numb lips and cheeks following dental treatment.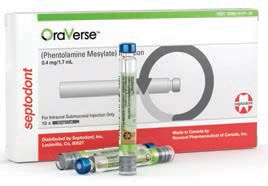 CABINETRY INSPIRED BY CLINICIANS
In creating Inspire dental furniture, A-dec (800-547-1883; a-dec.com) consulted with dental professionals to optimize the new line for improved workflow, efficiency and ergonomics. Designed to simplify technology, it also allows personalized design. The cabinetry integrates LED task lighting, which is color matched to A-dec LED dental lights to ease eyestrain. Glass vessel sinks and unique cabinet infill options create an operatory that expresses individual style, while ensuring that everything the dental team needs to work productively is accessible and comfortably within reach.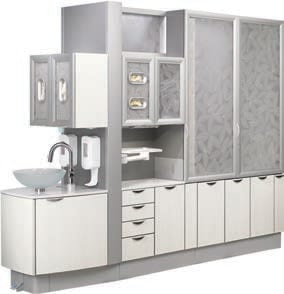 CROWN AND BRIDGE REMOVAL WITHOUT PAIN OR DAMAGE
Taub Products (800-828-2634; taubdental.com) has released the Impulse Crown and Bridge Remover. Made of stainless steel and available in satin or polished finishes, the Impulse comes with two interchangeable tips for the removal of crowns, provisionals, bridges and splints. According to Taub, this instrument allows clinicians to painlessly remove a crown without anesthesia by breaking the seal of cement, rather than pulling with force. In most cases, the company says, metal-ceramic crowns and bridges can be removed with no damage. The Impulse and tips can be sterilized separately by any method.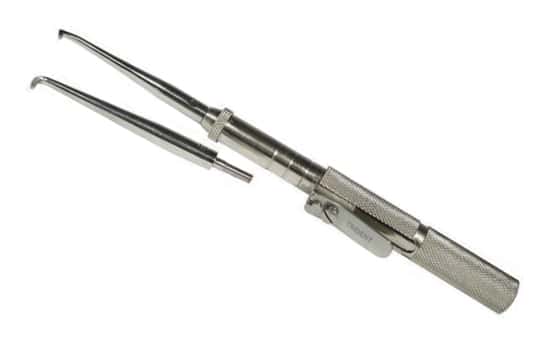 OPERATORY SYSTEM DESIGNED FOR COMFORT AND EASY UPGRADES
The Intego Transcendental Treatment Center from Dentsply Sirona (800- 873-7683; sironatc.com) is designed for easy expansion and integration of current and future technologies. It integrates the components of digital dentistry — including CAD/CAM tabletop peripheral equipment — into one unit. The system is available in two flexible models, the Intego TS (traditional delivery) and CS (continental delivery). Both are equipped with an interface providing touchscreen control of suitable operatory instruments. A 22-inch, medical-grade monitor allows clinicians to showcase patient treatment approaches, including radiographs, media player files and PowerPoint presentations. Intego patient chairs are ergonomically designed with a double-articulating headrest and seamless lines for esthetics and easy cleaning.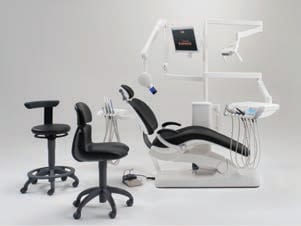 NIGHTGUARD FIGHTS THE EFFECTS OF XEROSTOMIA
New from Great Lakes (800-828-7626; greatlakesortho.com), the Americo Dry Mouth Nightguard System is designed to protect teeth from the effects of xerostomia, and prevent periodontal damage during sleep. The custom-made upper and lower appliance trays are fabricated to fit comfortably and hold a specially formulated gel that increases salivary flow to protect tooth enamel. The gel contains xylitol to maintain moisture around the teeth and gingiva throughout the night. The product helps prevent caries and plaque accumulation, while decreasing the risk of oral infection. The Americo system includes an upper and lower tray, gel, an appliance case, and an application brush.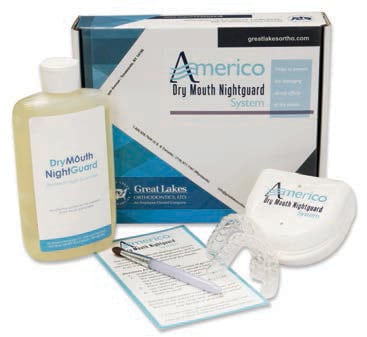 OBTURATORS PROMISE FLEXIBLE PRECISION
Pac-Dent International (909-839-0888; pac-dent.com) now offers the PacFil PC (plastic carrier) and PacFil GPC (guttapercha carrier) thermal obturators. Features include ease of use, radiopacity, and precision fit and performance. Available in sizes 20 to 50, both can be used to obturate any constant or variable 0.04 to 0.10 ISO-size tapered canal. PacFil's heated alpha-phase gutta-percha promises precise canal filling. The coating is designed for placement accuracy and easy cleanup. PacFil obturators are compatible for use in the most popular gutta-percha obturator ovens. PacFil Verifiers are designed to make sizing fast and easy.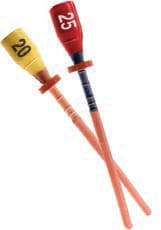 BLOCK-OUT MATERIAL PROTECTS SOFT TISSUE
Adding to its Chairside product line, Zest Anchors (800-262-2310; zestanchors.com) has introduced Chairside Block Out Material, which can be used in multiple treatment scenarios, including blocking out undercuts while processing overdentures. This new protective material is described as patient-friendly and easy to handle. The acrylic resin remains cool and comfortable during light curing, preventing discomfort and harm to tissue. It is designed to stay put during syringe delivery, and features a contrasting blue color for excellent visibility. It is indicated for use while bleaching, sand blasting or using air abrasion; sealing around or repairing rubber dams; and maintaining reservoir space for bleaching trays.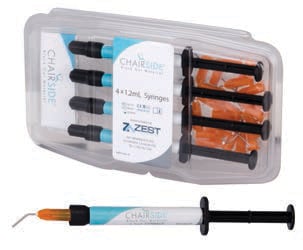 ASPIRATORS ADD COLOR AND COMFORT
Designed to dress up the operatory while making patients more comfortable, Total-Comfort Colorflex Soft-tip Aspirators from Practicon (800-959- 9505; practicon.com) are now available in four bold, fun colors. These aspirators feature the patented Total-Comfort soft, flexible tip. Gentle on soft tissue, they are recommended for pediatric or older adult patients. The tubing resists kinking when bent and is latex- and phthalate-free.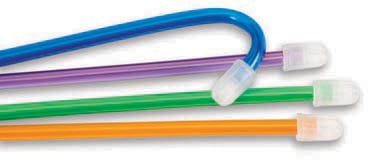 POWERFUL ROTARY TOOTHBRUSH DEBUTS
DenMat (800-4DENMAT; denmat.com) debuts its latest generation toothbrush — the Rotadent ProCare. Designed as an at-home extension of the dental hygienist's prophy handpiece, Rotadent ProCare is said to fight plaque with the same clinical efficiency of previous Rotadent models. Additionally, it features a more powerful, yet quieter, motor that powers new driveshaft and brushhead designs. Rotadent ProCare also maintains many key features from previous models, such as a QuadTimer with 30-secondinterval indicators, two brushing modes, and three brushhead designs to meet a variety of patient needs.

MODULAR CONCEPT LETS IMPLANTS EVOLVE WITH THE PATIENT
Nobel Biocare (800-322-5001; nobelbiocare.com) has unveiled the On1 implant concept, a modular solution that bridges the gap between surgical and prosthetic workflows. The On1 Base connects to the implant at surgery and remains in place throughout the healing process and prosthetic work, and then the lifetime of the restoration. It's designed to leave the soft tissue undisturbed without compromising flexibility. With two height options, the On1 Base can be changed should the thickness of the soft tissue require it in the short or long term.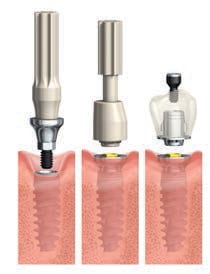 From Decisions in Dentistry. August 2016;2(08):52–53.