Product Profile: Dental unit waterline treatment from Crosstex
Powerful solutions for dental unit waterline maintenance protocols.
POWERFUL SOLUTIONS FOR DENTAL UNIT WATERLINE MAINTENANCE PROTOCOLS
Dental unit waterline treatment from Crosstex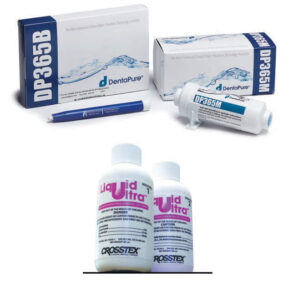 FEATURES AND BENEFITS

If left unmanaged, water passing through dental unit waterlines (DUWLs) can harbor dangerous pathogens that pose a risk to your patients and staff — and your practice's reputation.
As a leader in infection control and prevention, Crosstex offers a family of DUWL maintenance solutions designed to ensure that dental unit water meets or exceeds U.S. Environmental Protection Agency (EPA) water quality standards of ≤500 colony forming units (CFU)/ml, and complies with guidelines issued by the federal Centers for Disease Control and Prevention, American Dental Association, and the Organization for Safety, Asepsis and Prevention.
Recognizing that each practice is unique, Crosstex's family of waterline treatment solutions lets clinicians choose which simple, cost-effective treatment best suits their needs.
DentaPure is a multi-award-winning DUWL treatment that represents a revolutionary step in waterline maintenance. One nontoxic, noncorrosive cartridge provides 365 days of safe, compliant water — turning your daily or weekly waterline treatment protocol into a once-yearly routine.
Compatible with all dental units and equipment, DentaPure cartridges are available for bottle and municipal waterline systems, and can be installed in minutes.
Other than changing the DentaPure cartridge annually, the system is maintenance free — and there are no testing requirements.
Liquid Ultra is certified by the EPA to kill, remove and prevent DUWL biofilm. Each office is different, and Liquid Ultra gives practices the flexibility they need.
Used as a weekly treatment on its own, Liquid Ultra is a more cost-effective and safer option than using daily tablets.
Liquid Ultra can also be used in conjunction with a tablet protocol — for example, it can be used as a bimonthly or quarterly flushing/shocking solution, or as recommended in your daily waterline maintenance regimen.
Offices can utilize Liquid Ultra as a best practice solution for rapid treatment of waterlines prior to initiating a new maintenance protocol, or to quickly treat dental unit waterlines with extremely high CFU conditions.
Suited for external bottle systems, the alkaline peroxide-based formula is noncorrosive and won't damage handpieces or equipment.
The pink dye in Liquid Ultra makes it easy to confirm that DUWLs are saturated.
BOTTOM LINE
Although waterline maintenance is easy to put off, the potential risks of noncompliance with DUWL water quality standards are too great to ignore. With the DentaPure and Liquid Ultra solutions from Crosstex, clinicians can choose the waterline treatment protocol that best fit their needs.
From Decisions in Dentistry. August 2016;2(08):51.