June 2020 Marketplace
A listing of featured products.
MINT-FLAVORED DENTAL PICKS JOIN LINEUP
Sunstar Americas (888-777-3101; us-professional.gumbrand.com) offers GUM Soft-Picks Comfort Flex Mint. These soft-picks deliver a minty fresh flavor and feature flexible rubber bristles for gentle, effective food and plaque removal. GUM Soft-Picks Comfort Flex Mint is the newest offering in the line, which includes GUM Soft-Picks Original and Advanced, each clinically proven to clean between teeth as effectively as string floss.
GENTLE RESTORATION CLEANER RELEASED
Kuraray Noritake (800-879-1676; kuraraydental.com) has launched KATANA Intraoral and Restoration Cleaner. Formulated to eliminate issues with weakened bonds after cementing restorations, it features effective cleaning thanks to its surface-active methacryloyloxydecyl dihydrogen phosphate salt. Described as an all-purpose cleaning agent, KATANA Cleaner is indicated for caries, abutments and root canals, as well as prosthetics, such as ceramics, resin-based materials, metals and posts. The two-step process prior to cementation consists of (1) applying and rubbing KATANA Cleaner, and (2) rinsing and drying. Its low pH value of 4.5 enables use extraorally and intraorally.
SMART TOOTHBRUSH IMPROVES SELF-CARE
The Oral-B GENIUS X Professional Electric toothbrush from Procter & Gamble (800-566-7252; oralb.com) is powered by artificial intelligence technology and pairs with the Oral-B app. The Oral-B GENIUS X recognizes and shows patients where they brush and areas that need more attention. The toothbrush's innovative features include triple pressure control to reinforce gentle brushing, position detection, and a pro timer to help address brushing behavior. In addition, the dental professional-inspired Round for a Reason brush head is said to clean more effectively than regular manual toothbrush designs.
TOOTH WHITENING SYSTEM DEBUTS
CRYSTAL (thecrystal.com), creator of the original mineral salt deodorant, now offers a tooth whitening line. Crystal True Minerals is a naturally formulated, mineral-enriched bleaching system that provides an alternative to strips and trays. It is offered in a three-step Advanced Dental Whitening System, and a two-step Daily Teeth Whitening Kit and Refill. The whitening process is accelerated with the power of heat and light provided by the CRYSTAL dual-energy xenon and LED light. Results are said to be improved and maintained by brushing regularly with the included Mineral-Enriched Whitening Toothpaste, which gently removes surface stains.
HEALTHCARE BAGS AVAILABLE IN 900 DESIGNS
SmartPractice (800-522-0800; smartpractice.com) has expanded its line of Healthcare Bags, which are now available in more than 900 coordinated designs, making it possible for dental offices to have the same design in their choice of paper or plastic bags. Available in three sizes, the bags feature a die-cut handle, with the larger paper bags also featuring a reinforced handle for extra durability. Sample packs are available upon request.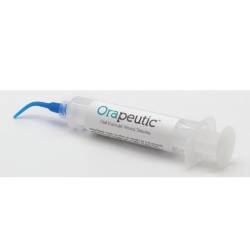 ORAL WOUND DRESSING AIDS PATIENT COMFORT
Forward Science (855-696-7254; forwardscience.com) now offers the nonopioid oral pain relief gel, Orapeutic. The hydrogel wound dressing received U.S. Food and Drug Administration clearance in December 2019, and was released by Forward Science in February 2020. Orapeutic is an all-natural product that is said to provide patients with effective pain relief and wound protection.
From Decisions in Dentistry. June 2020;6(6):45.