FAQ: V-Posil impression system from VOCO
Time-Optimized Impression Material Delivers Precise Clinical Detail.
Time-Optimized Impression Material Delivers Precise Clinical Detail
V-Posil impression system from VOCO
What does "time optimization" mean for V-Posil users?
VOCO's time optimization technology eliminates the need for dentists to choose between fast-set or regular-set vinyl polysiloxane (VPS) impression materials, because V-Posil combines the best features of both. Its benefits include an adjustable working time of up to two minutes (giving practitioners control over the pace of the procedure), and an abbreviated, two-minute thermoactivated set time that improves efficiency and patient comfort. In addition, this two-in-one material reduces a practice's inventory needs, which saves money and storage space.
How does V-Posil's versatility set it apart from other VPS materials?
Traditional fast-set VPS materials allow for a shorter set time (which minimizes discomfort for the patient and speeds the procedure), but typically limit working time. This may rush practitioners, increasing the potential for mistakes or inaccuracies. Regular-set materials provide more working time for material placement, but they generally require a longer set time, which increases the potential for human error, inaccuracies and retakes. It also forces patients to endure potential discomfort for longer periods. Thanks to its adjustable working time, V-Posil stands apart. This versatile material adapts to each clinicians' working style and requires up to 30% less chairtime than conventional impression materials.
From a clinical standpoint, what are the benefits of this system?
Also indicated for reline impressions and fabricating full or partial dentures, VOCO's V-Posil impression system provides consistently excellent results, while ensuring patient comfort, clinical efficiency and treatment convenience. This easy-to-use, A-silicone-based material offers rapid snap set technology that reduces time in the critical zone by up to 50%, thus minimizing the potential for retakes or distortion. Due to its low, polyether-like contact angle (< 10°), V-Posil's superior hydrophilicity displaces saliva and blood for enhanced contact with the anatomy and more precise impressions. In addition, its exceptional tear strength and elastic recovery ensure dimensional accuracy of the impression during and after removal.
What are the choices in material viscosity?
Clinicians can choose from putty, heavy-body, light-body and X-lightbody formulations. With a choice of viscosities, V-Posil lends itself to all impression techniques, including the one-step, two-step or putty-wash methods. VOCO further speeds chairtime by providing a Dynamic Dispenser for the heavy-body fast-set material that utilizes 380-ml cartridges that allow tray filling at the touch of a button.
What do laboratory technicians think about V-Posil?
Dental lab technicians appreciate V-Posil's post-set hydrophilicity (< 6° contact angle) that allows for highly accurate stone models and, thus, better-fitting restorations for each and every case.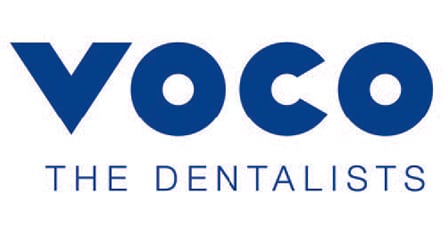 From Decisions in Dentistry. July 2017;3(7):57.