SprintRay Pro from SprintRay
In-office 3D printer offers versatility, efficiency and time savings.
In-Office 3D Printer Offers Versatility, Efficiency and Time Savings
What are the dental applications for three-dimensional (3D) printers?
Offering clinical benefits to virtually all types of dental settings, 3D printers are highly versatile pieces of technology that can improve office efficiency, save chairtime and increase treatment acceptance. For example, using intraoral scan data, dental teams can print restorative wax-up models to improve patient understanding and case acceptance. In addition, 3D printers allow practices to create surgical guides in-house for a fraction of typical lab fees, or fabricate clear aligners for maximum patient convenience and treatment efficiency. They can also be used to print indirect bonding trays to cut bracket placement time in half. And that's just to start.
Is this the right time to add a 3D printer to my clinic?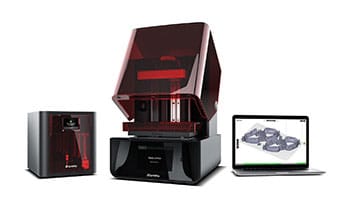 Recent advances in materials technology and printer accuracy let clinicians easily fabricate dental appliances in-office with the same quality they get from a trusted lab. Clinics that adopt 3D printing are able to reduce treatment time while improving control over the process, and ultimately deliver a superior patient experience.
The latest generation of 3D printers overcomes many of the remaining barriers to the technology by offering user-friendly software, reliable hardware and live support. Dentists who invest now stand to gain the competitive advantage of early adoption, but without the headaches and uncertainty of first-generation technology.
Financially, does a 3D printer offer a sound return on investment (ROI)?
The versatility of in-office 3D printers and low cost of materials make this technology an ROI slam dunk. With the proper equipment and training, dental teams can produce surgical guides in-house for about $1 in materials, or occlusal guards and splints for $3 in materials. Similarly, try-in dentures can be printed for approximately $4 per part. The SprintRay Pro can produce most dental appliances in less than an hour, and has the capacity to print up to 21 standing full arches simultaneously.
Why is the SprintRay Pro significant to dental practice?
Offering unmatched value, the SprintRay Pro combines cutting-edge technology with a clinician-centric design for a dental 3D printing solution that is both capable and user-friendly. Its industrial throughput is backed by artificial-intelligence-driven software that can automatically close intraoral scans. What's more, its robust onboard computer offers contextual help videos so clinicians don't have to be experts to run a print job.
How will installing a 3D printer affect the relationship I have with my lab?
Most labs, even those that still fabricate traditionally, rely on digitization because it offers increased dimensional accuracy. In-office 3D printing means clinicians can use digital design services from labs and print the parts directly in the office. This facilitates greater collaboration in terms of sharing scans, files, and even making suggestions over the web. This level of digital cooperation not only increases appliance delivery speed, it allows both parties to improve treatment outcomes.

From Decisions in Dentistry. April 2019;5(4):9.