SprintRay Pro from SprintRay
Rapid improvements make in-office 3D printers more versatile than ever.
Within the ever-expanding scope of digital dentistry, three-dimensional (3D) technology, including intraoral scanning, designing, printing and milling, offers the greatest advances in care. I have seen dentists successfully integrate each of these technologies — though none are better in terms of ease of implementation and return on investment than 3D printing.
The advantages of printing in-office versus outsourcing are numerous. These include faster turnaround, lower cost and multiple prints. In addition, thanks to the wide variety of materials available, 3D printers offer great versatility in the fields of orthodontics, implant dentistry, prosthodontics and occlusal therapy. As an example, digital orthodontics has been huge. Traditionally, practices outsourced their orthodontic designs, which also meant expensive lab bills. However, with the entry of new digital orthodontic labs, faster printers and education in clear aligners, we've improved access to care and reduced the cost of entry for patients and practitioners.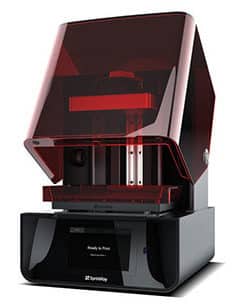 Despite the benefits of guided implant surgery, many clinicians have viewed it as cost- and time-prohibitive — yet newer 3D desktop printers allow dentists to produce guides for as little as $5 each in a single day. This alone makes it an absolute no brainer, because it offers greater precision during implant placement, along with improved procedural efficiency and cost savings.
Occlusal guards are another prime example, as these are easily printed in-office as a temporary night splint or long-term prosthesis. Resin technology is improving rapidly in terms of strength and printing speed, and newer resins might soon surpass the strength and durability of polymethyl methacrylate materials.
Finally, there are digital dentures: You can now print a denture in your office in monolithic resin and hand-stack the gingiva, or print teeth in one resin and gingiva in a separate resin, and cure the two together. It's simple, fast, predictable, and an incredible option that's only getting better with time. Soon we will have more shade options to match teeth and gingiva, and all final prints will be finished in a stronger material.
Navigating the dental 3D printer market can be tough, but there are a couple of key considerations. A printer has to be affordable, turnkey, accurate, reliable (meaning, no failed prints), and efficient (with little to no wasted material). Speed and capacity (especially for orthodontic applications) are also important. Software with these machines is just as critical; ideally, it should be easy and functional enough that you can delegate most or all of the work to your staff.
Adopting 3D printing technology now is important before you're left "behind the times." There are many great printers on the market, but considering cost, support, material selection, ease of use, and best overall prints, I highly recommend only one printer — the SprintRay Pro.

From Decisions in Dentistry. September 2019;5(8):10.