BURST® Oral Care Launches New Products
To further its mission of bringing better oral hygiene to all, BURST Oral Care is proud to introduce the Pro Sonic Toothbrush and Curve Sonic Toothbrush to market. Featuring innovative designs and new technology, both brushes were created in partnership with BURST's Ambassador network of more than 35,000+ dental professionals to ensure high-quality performance at accessible price points for consumers.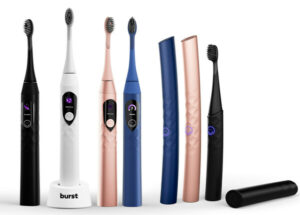 Enhanced with reinvigorated cutting-edge features, the BURST Pro Sonic Toothbrush offers an elevated user experience. Created as the peak of dental technology to provide the ultimate cleaning and whitening experience, the Pro boasts a new high-end color LED screen, smart responsive software to provide optimal care, and a category defining (up to) 9-month rechargeable battery life. Add to that a sensor that provides feedback for every brushing session via a score graded on how many seconds users remained in the proper pressure zone to help them brush better. There's also an impressive range of five custom brushing modes including Whitening, Clean, Sensitivity, Freshen, and Massage. The Pro still embraces the iconic hygienist-approved bristles that are soft and tapered to clean without damage and reach plaque below the gumline.
BURST is also introducing its new Curve Sonic Toothbrush. With the company's dental professional Ambassadors, BURST designed a uniquely curved powerhouse to target neglected back molars with dental precision while fitting seamlessly into a patient's bag — thereby ensuring fresh breath and optimal oral health for anyone on the go. The Curve is fully equipped with super soft tapered bristles, cleansing sonic vibrations from a powerful motor, whitening and sensitive modes and a 2-minute timer. It serves as the ideal on-the-go brush with its up to 75-day battery life, compact design, and sanitary travel top.
Find the Pro (starting at $79.99) at burstoralcare.com, Amazon, and exclusively in-store at Walmart and the Curve (starting at $29.99) at burstoralcare.com, Amazon, and in-store both Walmart & CVS.
About BURST® Oral Care
BURST is a healthcare company on a mission to bring better oral hygiene to all with ultra-high quality, effective, enjoyable-to-use products. Since launching in 2017, BURST's main differentiator has been its partnership with and stewardship of the first and largest community of 35k+ Ambassador oral healthcare providers. In a novel coalition no other company successfully replicates, these dental professionals help BURST build the products they want to see for their patients. Together, they take a holistic approach to tackling systemic oral health issues as well as aesthetic ones by co-creating an innovative, accessible product suite and making it available through retailers, dental offices, D2C, and more.
For more information, visit burstoralcare.com and follow us @burstoralcare across social.