7 Habits of Highly Effective Implant Clinicians – Part 3
This concluding look at screw-retained implants explores component synergy, torque wrench errors, and recommended screw-tightening techniques.
PART 3 OF 3. CLICK HERE TO READ PART ONE. CLICK HERE TO READ PART TWO.
The most frequently encountered restorative issue with single implant crowns is implant abutment screw loosening, which has a reported incidence of 7% to 12% over a six-year period.1 Appearing in the February and April issues, the first installments in this series on screw-retained prostheses covered screw mechanics, use of proper torque, why screws lose their preload, and the value of patient education in implant therapy.
This final installment will cover the remaining three habits of successful implantologists: the importance of component synergy, avoiding torque wrench reading errors, and successful approaches to screw tightening.
HABIT 5: COMPONENT SYNERGY MATTERS
When matching the reciprocating surfaces of a joint, fit is vital to success. Failure to adhere to this principle increases the risk of screw loosening, especially as related to cyclical chewing forces. Original manufacturer systems must always be considered the components of choice, as this minimizes potential loosening resulting from mismatched components. 
HABIT 6: TORQUE WRENCH VIEWING POSITION
Depending on where the operator is seated and his or her ability to see the marker, beam torque wrenches are prone to measurement reading error (MRE). Although these instruments have minimal calibration and maintenance needs compared to other torque wrenches, MRE is a potential problem that is seldom discussed. Studies have shown MRE may be as much as 20% to 30% off target, resulting in either under-torquing or over-torquing the screw. To counter this, operators must assume a viewing position that is approximately 90 degrees to the reader arm and cantilever beam.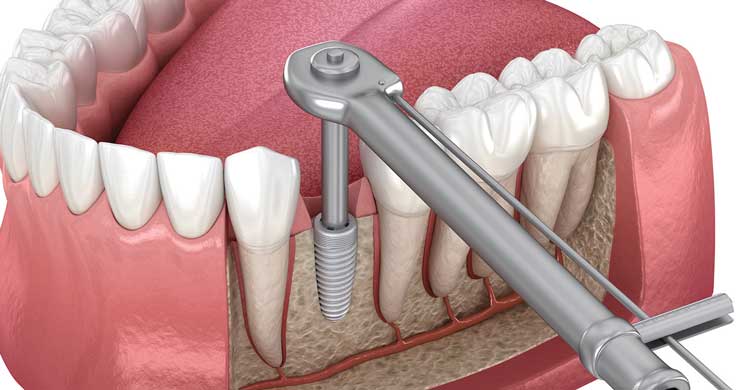 HABIT 7: ABUTMENT SCREW TIGHTENING
Much has been written about optimal techniques for tightening abutment screws. These range from tightening and then retightening, to sending the patient away for a few weeks, having them return and changing out the screw for a new one. Most of these have no foundation in science. For example, tightening to full torque, and waiting 10 minutes before retightening is a common misrepresentation, and comes from a sample size of only two screws and no other wait times than 10 minutes. Studies have shown that tightening time is irrelevant, whether one waits five to 10 minutes or two weeks. The correct approach is to confirm the abutment is correctly seated (with no impingement of the soft tissues) before tightening the screw to the specified torque.
Recent research has examined how abutment screw materials and surface coatings effect tightening techniques. For example, 23-karat gold-coated screws should be tightened to full torque, reversed, retightened, again released, and finally retightened to full torque. Scanning electron microscopy demonstrates the resulting gold smears help lubricate and lock the threads so more force is required to remove the screw. Titanium nitride-coated screws have also been tested. The optimum technique here is to tighten to target torque just once. Finally, screws with a diamond-like coating were shown to benefit from being tightened to full torque, released, and tightened again — but, like other techniques, there was no benefit in waiting between steps.
Ultimately, screw loosening will continue to be an issue due to the inability to control all forces within a patient's stomatological system. However, with good knowledge and prudent clinical practice, the risks can be reduced — producing healthier implants sites, minimizing material fracture and wear, and improving long-term outcomes.
REFERENCES
Goodacre BJ, Goodacre SE, Goodacre CJ. Prosthetic complications with implant prostheses (2001–2017). Eur J Oral Implantol. 2018;11(Suppl 1):S27–S36.
From Decisions in Dentistry. May 2022;8(5)24.