Marketplace May 2022
A listing of featured products.
EASIER CHAIRSIDE 3D PRINTING
Medit (medit.com) and Formlabs Dental (dental.formlabs.com) have partnered to streamline chairside three-dimensional (3D) printing. This combination of industry-leading technology will make intraoral scanning and 3D printing accessible and approachable to all dental practices. Offices equipped with Medit i500 or i700 intraoral scanners can download Formlabs' PreForm app — a software integration that helps prepare prosthesis and appliance designs for printing — directly from Medit Link. By combining this technology, Formlabs and Medit will enable clinicians to easily print dental components with greater speed and efficiency through a simplified in-office workflow. With Medit scanners, dental professionals can scan a patient's teeth, and simply and easily convert scans into 3D printed models and appliances with a Formlabs Form 3B+ printer and biocompatible resins, such as Permanent Crown and Temporary CB. This partnership allows offices to adopt scanning and 3D printing in an intuitive, easy-to-integrate workflow.
---

NANOHYBRID FLOWABLE COMPOSITE FEATURES BIOACTIVE TECHNOLOGY
Beautifil Kids SA, a new self-adhesive nanohybrid flowable composite from Shofu (800-827-4638; shofu.com), features the company's bioactive Giomer technology. This proprietary filler particle can release and recharge six different ions — fluoride, strontium, sodium, aluminum, silicate, and borate — which, together, have been clinically proven to inhibit plaque, neutralize acid, and eliminate secondary caries. Ideal for restless pediatric patients, Beautifil Kids SA eliminates the need for technique-sensitive bonding procedures, thus speeding chairtime. In addition to simplifying pediatric procedures, this material delivers high bond strength for reliable adhesion, while its excellent handling aids precision placement. Available in primary (B1) and permanent (A2) shades, esthetic results are assured by light transmission and diffusion properties that blend well with primary or permanent dentition.
---

ALIGNER SOFTWARE SUPPORTS PREDICTABLE OUTCOMES
Henry Schein Orthodontics (800-344-3397; henryscheinortho.com) announces the launch of Studio Pro 4.0, a new web-based treatment planning software for Reveal clear aligners. Linked to the DDX Case Management Portal — a remote server used for image submission and case management — Studio Pro 4.0 offers Reveal providers virtual setup tools to visualize, customize, and communicate treatment plans for clear aligner therapy. With more than 25 new features, the software allows practitioners to easily navigate an intuitive interface that was designed following extensive clinician feedback. Featuring direct integration with many leading intraoral scanners, as well as connectivity with practice management software, Reveal simplifies clear aligner workflows to enhance the patient experience.
---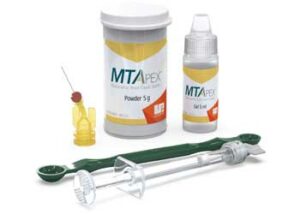 NEW ROOT CANAL SEALER ANNOUNCED
Ultradent (888-230-1420; ultradent.com) announces the launch of MTApex bioceramic root canal sealer. For clinicians performing root canal treatment, MTApex provides a sealer that is bioceramic and can be used with any endodontic obturation method. This material features an extra-smooth consistency that, when mixed, is designed to be delivered through Ultradent's 29-gauge single sideport NaviTip. The proprietary gel and tricalcium silicate powder mixture releases calcium ions, stimulating bone repair and increasing the pH of the canal. This helps eliminate postprocedural bacterial growth and root resorption. Each kit contains enough powder and gel to seal approximately 20 canals.
---

STRATEGIC PARTNERSHIP STREAMLINES DELIVERY UNIT EFFICIENCY
Midmark and Bien-Air (midmark.com/​bienair) have announced a new strategic collaboration that combines the two companies' technology into a simple and easy-to-use delivery unit solution. With a shared commitment to enhancing the point-of-care experience, Midmark and Bien-Air are partnering to integrate Bien-Air's latest electric handpieces into Midmark's dental delivery equipment for a more complete operatory ecosystem. Now, dentists can select Midmark's Procenter and Elevance delivery units with Bien-Air's newest micromotor and contra-angle handpieces for an operatory-ready setup designed to simplify workflows across a broad range of procedures. The ergonomically designed Bien-Air handpieces feature small heads for improved access and visibility, the CoolTouch+ heat-arresting system, and an autoclavable anti-retraction valve to reduce cross-contamination risks.
---

RETRACTION PASTE OFFERS TWO-STAGE VISCOSITY
Featuring a custom tip and two-stage viscosity, the new retraction paste from VOCO (888-658-2584; vocoamerica.com) is an aluminum chloride formula that effectively widens and dries the gingival sulcus, creating ideal conditions for accurate impressions. VOCO Retraction Paste features a custom capsule with a long, fine, flexible plastic tip that allows precise application without damaging the gingiva. Its variable viscosity makes application easy. First, the paste flows under low pressure into the sulcus with minimal extrusion force. Once in place, its viscosity increases to remain stable as it temporarily widens the sulcus. Designed for use with or without a retraction cord technique, this material can also be used to assist in the cementation of temporary or permanent restorations, and during preparations for class II and V restorations. The paste, which can easily be rinsed off, features a bright turquoise color to ensure maximum visibility.
From Decisions in Dentistry. May 2022;8(5)44.