CareCredit offers Free Dental Practice Management Audio Program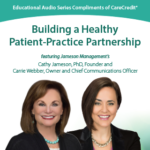 COSTA MESA, Calif. — CareCredit, a patient financing company, is expanding its educational library with the addition of a new audio program, "Building a Healthy Patient-Practice Partnership," featuring Cathy Jameson, PhD, founder of Jameson Management, and Carrie Webber, owner and chief communications officer of Jameson Management. This educational resource is available free to dentists and teams who accept CareCredit.
In the new audio program, Jameson and Webber discuss how to build a practice based on true partnership, where patients are more engaged, more apt to accept recommended care, and more likely to refer friends and family. They will also role-play key patient conversations and break them down to provide the psychology behind the words.
Practices that accept the CareCredit health care credit card can request a copy of this complimentary program by contacting their Practice Development Team at 800-859-9975, option 1, then 6. Practices that have yet to add CareCredit as a financing solution can call 800-300-3046, option 5, to request their complimentary copy.