Oral Health America Announces a Three Year, $500,000 Commitment from Ivoclar Vivadent, Inc.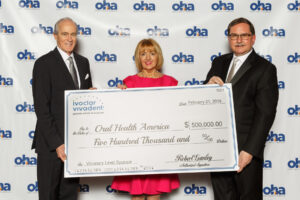 Oral Health America (OHA) is the recipient of a three-year, $500,000 commitment from Ivoclar Vivadent, including an annual $50,000 grant as well as a commitment to provide $117,000 of dental product to OHA's Smiles Across America® Program Partners to help them serve more children by lowering their operating costs for supplies.
 This commitment mutually supports Oral Health America and Ivoclar Vivadent's vision of a future in which all Americans, particularly the growing cohort of older Americans, experience good oral health as a critical part of their overall health and well-being.    
 "Ivoclar Vivadent's early investment in OHA's older adults program, the Wisdom Tooth Project®, allowed us to expand the program from a single strategy to five. Their continued commitment allows us to further our reach, bringing our programs to those who need them the most," said Beth Truett, MDiv, BS, president and CEO, Oral Health America. "Thanks to their continued support as a Guardian Sponsor, we are able to serve children, families and older adults across the country. We are grateful for Ivoclar Vivadent's ongoing investment in our work."
 The three-year commitment also contributes to OHA's collaboration with the University at Buffalo School of Dental Medicine and community organizations in Western New York to offer Tooth Wisdom®: Get Smart About Your Mouth and oral screenings to older adults aging-in-place in the Greater Buffalo community. This initiative is designed to improve the oral health of older adults in that region, especially those most vulnerable. Tooth Wisdom: Get Smart About Your Mouth is OHA's older adults' oral health education curriculum.
 "Our work with Oral Health America is very rewarding," said Robert Ganley, CEO of Ivoclar Vivadent. "The programs we are developing together serve a population of people that deserve proper oral care. However, we have witnessed that the growing older American population does not always receive the care they deserve. The Wisdom Tooth Project is an invaluable initiative and we will continue to find solutions for supporting our older adult population and their oral care needs."
 Ivoclar Vivadent also sponsored a challenge grant for OHA's Older Adults Campaign, Leading by Living, part of the Campaign for Oral Health Equity. The campaign featured older adults in a variety of roles, focused on their own oral health, that of their grandchildren for whom they're caring, and the supports needed to create an equitable playing field.