Metagenomics of early childhood oral health and early childhood caries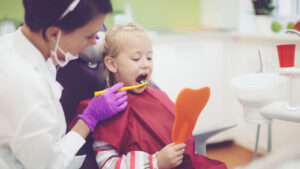 Alexandria, VA, USA – At the 47th Annual Meeting of the American Association for Dental Research (AADR), held in conjunction with the 42nd Annual Meeting of the Canadian Association for Dental Research (CADR), Kimon Divaris, University of North Carolina-Chapel Hill, the AADR representative to the IADR/AADR Publications Committee, presented a poster titled "Metagenomics of Early Childhood Oral Health and Early Childhood Caries." The AADR/CADR Annual Meeting is in Fort Lauderdale, Florida, from March 21-24, 2018.
The supragingival oral microbiome is the fundamental pathogenetic element for dental caries development, including its severe, early-onset form – early childhood caries (ECC). The supragingival biofilm likely harbors taxonomic and functional information that can be leveraged to inform 'precision dentistry' in early childhood.
Next-generation sequencing methods can help illuminate specific compositional and functional features that underlie oral health and ECC, however, there are no population-based studies of the oral microbiome composition and function in the context of ECC management–this represents a knowledge gap.
"With this study, we sought to characterize preschool-age children's supragingival microbiome composition according to clinical statuses of health ('caries-free'), 'restored disease' and 'non-restored' or 'untreated' disease," said Kimon Divaris. "This knowledge is foundational for the development of precision medicine/precision dentistry approaches for diagnosis, prevention and treatment in the oral health domain. Our long-term goal is to characterize oral health and disease at the molecular level; in other words, define taxonomic or functional signatures in the supragingival biofilm that represent the ECC-associated oral dysbiosis prior to clinical disease development," he added.
The sample comprised of 118 children, aged 3-5, enrolled in ZOE 2.0, a community-based genetic epidemiologic study in North Carolina. Examiners recorded caries experience at the surface level using modified ICDAS criteria and classified children as being caries-free, having restored or untreated disease.
Calibrated clinical examiners collected supragingival biofilm samples from all preschool-age children participating in the ZOE 2.0 study, which funded by a grant from the NIH/NIDCR, U01DE025046. Biofilm samples were frozen onsite, and subsequently processed and carried forward to pair-ended 150bp read length whole-genome sequencing (WGS) shotgun using Illumina HiSeq-4000.
From 712 million high-quality reads, they identified 85 bacterial genera and 201 bacterial species, 185 of which were identified down to the strain level. Notable differences in species abundance were found between the three groups, including – caries-free: Streptococcus intermedius and Capnocytophaga; restored disease: Actinomyces odontolyticus and Streptococcus australis; and 'untreated' disease: Streptococcus mutans.
"These results now confirm 'known suspects' and provide novel insights into the metagenomics of ECC," said Divaris. "Acknowledging the inferential limitations of a cross-sectional versus a longitudinal study design, these results suggest that restorative care alone may not reverse the ECC-associated dysbiosis to a status resembling health. To further validate this notion, we are now overlaying this taxonomic information with meta-transcriptomics data from the same biofilm samples; we believe that this step will help illuminate the important functions and processes at play, above and beyond taxonomy."