Ultradent Products Celebrates 40th Anniversary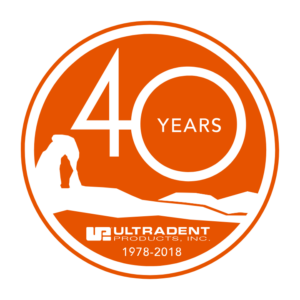 SOUTH JORDAN, UT – This year, Ultradent Products Inc, a family-owned, international dental supply and manufacturing company, celebrates 40 years in the dental industry. The company began with a simple idea by Dan Fischer, DDS, founder and CEO of Ultradent Products as he wanted to create a product that would act as a solution to a common problem dentists face—achieving predictable, rapid, and profound hemostasis in the mouth.
By 1978, he had invented and patented Ultradent's first product, Astringedent® hemostatic, a groundbreaking feat in tissue management. That same year, he founded Ultradent Products as a vehicle to market and sell his invention.
"Looking back on the last 40 years, I'm overwhelmed with gratitude for the sacrifice and hard work put in my so many people—whether it be my own family, our fabulous Ultradent employees, or the leaders in dentistry who championed us from the beginning and along the way in this wonderful endeavor," says Fischer.
Ultradent Products, proud USA-manufacturer, currently offers more than over 1,600 dental products worldwide. The company's hallmark products include its expanded line of tissue management products, and its world renowned, industry-leading line of tooth whitening products, Opalescence® Whitening Systems.