Daughter of Purple Heart Recipient Receives Free Orthodontic Care From Georgia School of Orthodontic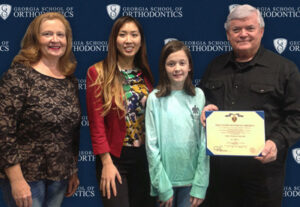 ATLANTA, Feb. 7, 2018 /PRNewswire/ — Keeping its pledge to support Purple Heart recipients in Georgia, the Georgia School of Orthodontics, in partnership with the Georgia Dental Foundation, has awarded one of its first families with free orthodontic care through its Purple Heart Smiles program.
"We are thrilled to welcome our newest Purple Heart Smiles recipient," says Ricky Harrell, DMD, GSO program director. "It is our honor – and we believe our duty – to provide the child of a Purple Heart recipient with the highest quality orthodontic treatment available and, ultimately, with a radiant, healthy, confident smile for that child."
The daughter of Purple Heart recipient retired Air Force Lt. Col. Rick White of Villa Rica will receive free braces and continued orthodontic care for the duration of her treatment at GSO's state-of-the-art Atlanta clinic. Ericka White, 12, will be treated by the school's expert faculty and staff, many of whom have served in the military themselves.
White, a former strategic bomber pilot with the Strategic Air Command, received the Purple Heart in 1995. He is also the recipient of the Small Arms Expert Marksmanship Ribbon, Air Force Longevity Service Award Ribbon, National Defense Service Medal, Air Force Outstanding Unit Award and Air Force Commendation Medal.
Ericka's mother, Donna White, said she heard about the Purple Heart Smiles program on the radio and immediately called her husband.
Donna White said her daughter's speech is affected by having inadequate space for her tongue to lay flat between her lower teeth. The resultant lisp has negatively impacted her self-esteem, she said. After learning from their family dentist that Ericka's lower teeth needed to be expanded to correct the issue, Donna White and her husband knew only orthodontic care could help.
"Our local orthodontist wanted almost $6,000, and honestly, we just couldn't afford it," says Donna White. "With the Purple Heart Smiles program, a weight has been lifted off our shoulders. We feel unbelievably honored and blessed."
"We are confident that with the correct orthodontic treatment plan, we can give Ericka the confident speech, and winning smile, she deserves," says Harrell.
To qualify for the Purple Heart Smiles program, a potential recipient must be a resident of Georgia, age 16 or younger, and the son/daughter of a Purple Heart recipient or have a Purple Heart recipient serving as their legal guardian. Documentation needed for verification includes a DD Form 214, Purple Heart Certificate and proof of being either the parent or legal guardian of the child.
GSO's Purple Heart Smiles program is ongoing, and there is no limit to the number of qualified recipients.
To apply online, visit www.bracestoday.com/purple-heart-smiles.