US Army Dental Corps Veteran Honored by the American College of Prosthodontists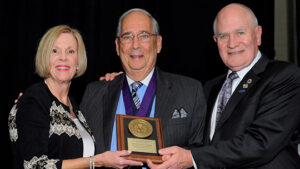 Chicago, Dec. 11, 2017 (GLOBE NEWSWIRE) — Ronald D. Woody, DDS, FACP, was honored with the Major General Bill B. Lefler Federal Services Award at the Annual Awards & President's Dinner during the American College of Prosthodontists (ACP) 47th Annual Session held in San Francisco, Nov. 1-4, 2017.
Named for the late Maj. Gen. Bill B. Lefler, who had an active military career of over 34 years and was a dedicated member and Fellow of the ACP, the award recognizes excellence in leadership, patient care, mentorship, and service to community. Woody was nominated for this honor by John R. Agar, DDS, MA, FACP, a colleague of Maj. Gen. Lefler and a past president of the ACP.
Within the ACP, Woody has served in many roles, including president from 1992-1993, vice president and treasurer. Woody is a Fellow of the ACP and is also a past chair of the American College of Prosthodontists Education Foundation (ACPEF). He previously received the Educator of the Year Award and the Distinguished Service Award from the ACP.
Outside of the ACP, Woody is a member of numerous dental and medical organizations. He is a past president of the American Board of Prosthodontics and the American Academy of Fixed Prosthodontics, is a Fellow of the American College of Dentists and International College of Dentists, and a member of the Academy of Osseointegration.
He served in the Army Dental Corps for 21 years, receiving many awards and honors for his dedication to the military. Woody was active in research and also served as program director of prosthodontic programs from 1978-1984. For the past 33 years Woody has served at Texas A&M College of Dentistry, where he is professor emeritus in restorative sciences. Previously, Woody developed the prosthodontic residency program at Baylor College of Dentistry and served as program director for 20 years.