SmileConnect and America's ToothFairy Announce Collaboration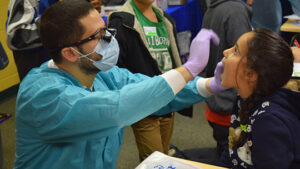 Building on a shared vision to improve children's oral health, a new partnership between SmileConnect Community and America's ToothFairy: National Children's Oral Health Foundation will expand community access to oral health resources.
SmileConnect was created in 2016 by Altarum, a nonprofit health systems research and consulting organization, to connect those in need of oral health resources and services with those who provide them. Leveraging philanthropic donations of dental supplies and the existing skilled workforce, SmileConnect helps address the widespread need for oral health education and prevention.
Seeking to extend its resources to a larger network, SmileConnect approached America's ToothFairy to explore opportunities for collaboration. Because America's ToothFairy has developed an extensive network of nonprofit clinics, community organizations and volunteers committed to improving oral health in their communities, both organizations recognized a strong opportunity to pool resources and increase delivery of services.
Resources available through SmileConnect include teacher curriculum, take home dental kits, live classroom presentations provided by dental students and professionals, screening and preventive service offerings, and educational handouts and materials for children and families. America's ToothFairy is making its own resources, including the popular ToothFairy 101 Community Education Kit, available through SmileConnect and will help to connect its network of educators, community organizations, nonprofit clinical staff, and dental providers to SmileConnect.org/Community for additional resources.
Anyone that works with young children can post a request for oral health resources, educational materials, or preventive services. To submit a request through SmileConnect, users must first create an account at SmileConnect.org/Community, then click the "Create a Request" button.