New Survey: Mouth Guard Usage in Many Sports Lacking for 4 in 10 U.S. Kids
Delta Dental survey finds high-impact sports have alarmingly low percentage of kids using basic safety precaution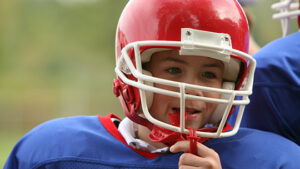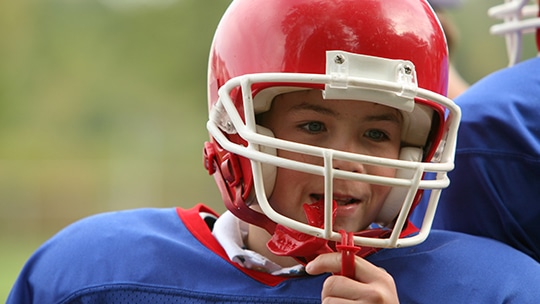 OAK BROOK, Ill., Dec. 12, 2017 /PRNewswire-USNewswire/ — From football to hockey, many American children aren't using one of the most basic forms of protection from injuries – mouth guards – and at an alarming rate, according to a new survey out today from Delta Dental. The survey of U.S. parents finds that out of children participating in Fall and Winter sports, just 60% are wearing mouth guards.
Taking a closer look at mouth guard usage for some higher-impact sports, the survey shows that for football, just 32 percent of parents report their child wears a mouth guard, for field hockey, just 14%. Lacrosse and ice hockey both fall at 11%, alongside volleyball. The complete list can be found here.
"Something as simple as a mouth guard could be the difference between a safe sporting activity and a trip to the emergency room," said Bill Kohn, DDS, Delta Dental Plans Association's vice president of dental science and policy. "A conversation with your dentist, and a well-fitting mouth guard, can help ensure children who play contact sports keep their smiles healthy."
A 10-year study of mouth and jaw injuries found that roughly 32% of facial trauma cases in children occurred during sports activities. The American Academy of Pediatric Dentistry points to research showing baseball (just 22% of children wear mouth guards while playing the sport) and basketball (24%) have the highest number of sports-related dental injuries.
There are three types of mouth guards:
Ready-made or stock mouth guard: Since the fit can't be adjusted, they're less effective than a fitted option.
Mouth-formed "boil and bite" mouth guard: These can be purchased at many sporting goods stores, and can be molded to the individual's mouth.
Custom-made mouth guard: These are considered the best option, but are also the most expensive. Since they are made by your dentist from a mold of your child's teeth, they fit tightly and correctly, are the most comfortable and more likely to be worn.
According to the American Dental Association, the most effective mouth guard should be comfortable, resistant to tearing and resilient. A mouth guard should fit properly, be durable, easily cleaned and not restrict speech or breathing. Delta Dental recommends children who play sports, and their parents, have a conversation with their dentist to see which mouth guard may be right for the child.