New clinic gives dental patients immediate access to nurse practitioner managed care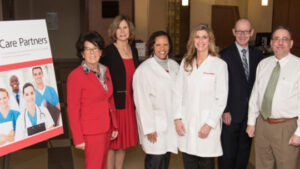 LOUISVILLE, KY. – Breaking down barriers to care while offering better patient service are reasons the University of Louisville Schools of Dentistry and Nursing will launch UofL Care Partners, a new clinical service at the dental school.
UofL Care Partners hopes to serve as an urgent care style clinic for patients who need help with issues such as blood pressure or diabetes management. Renovation, expected to be completed in early 2018, will convert an area in the School of Dentistry into a patient room. Dental patients, along with others including faculty and staff can make an appointment with UofL Care Partners' part-time nurse practitioner. In addition to offering chronic disease management, patients can have basic lab work completed or be seen for an acute illness. A nurse practitioner also will work with patients to connect them with a primary care provider or specialist, if needed.
UofL Care Partners is an outgrowth of an existing relationship between the Schools of Dentistry and Nursing who jointly received a $1.1 million grant from the U.S. Department of Health & Human Services Health Resources and Services Administration (HRSA) in 2012. The grant supported an educational initiative for nursing and dental students to enhance communication between the professions and develop best practices in patient assessment, consultation and management to improve overall health of patients.
Additionally, DMD students learn from a nurse practitioner who instructs them on completing medical history forms required for all new dental patients as part of the admission process. Dental students also learn how to evaluate whether a patient is healthy enough to complete an exam and subsequent treatment.