Stephen Hudis Sworn in as Vice President of the American College of Prosthodontists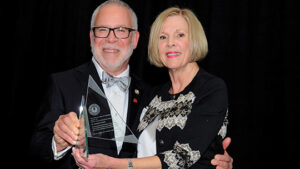 Stephen I. Hudis, DDS, FACP, was sworn in as vice president of the American College of Prosthodontists (ACP) during the 47th Annual Session of the ACP held in San Francisco, Nov. 1-4, 2017.
In addition to being sworn in for this 1-year term,  Hudis received the Private Practice Prosthodontist Award for Region 1 (Northeast), recognizing his outstanding contributions to the specialty of prosthodontics and his role in advancing the quality of life for his patients.
Hudis has been a member of the American College of Prosthodontists since 1980, when he joined as a student. Since then, he has been heavily involved with the College including fundraising, increasing awareness, and serving on several task forces. Hudis was previously the Treasurer for the American College of Prosthodontists Education Foundation (ACPEF). Over his seven years in the role, the ACPEF's endowment grew from $800,000 to more than $4 million.
Currently, Hudis maintains a private practice in Princeton, New Jersey and is an associate clinical professor at the University of Pennsylvania School of Dental Medicine. He is proud to be involved with Dental Volunteers for Israel where he has made several trips to help treat underprivileged children in Jerusalem. Hudis is also a Diplomate of the American Board of Prosthodontics.