UConn Professor Honored for Prosthodontic Humanitarian Efforts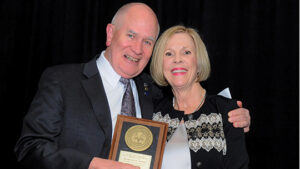 John Agar Recognized with the Distinguished Service Award by the American College of Prosthodontists
Chicago, Dec. 05, 2017 (GLOBE NEWSWIRE) — John R. Agar, DDS, MA, FACP, was honored with the Distinguished Service Award by the American College of Prosthodontists (ACP) at the Annual Awards & President's Dinner during the 47th Annual Session of the ACP held in San Francisco from Nov. 1-4, 2017.
The Distinguished Service Award recognizes an individual with the characteristics of a true humanitarian and outstanding service to the ACP. Agar received this year's award for his continued dedication to helping people using his expertise as a prosthodontist. One example of his service is an annual trip he takes to Alaska where he helps craft dentures for native people, something he has done for over 20 years. 
A past president and Fellow,  Agar has been a member of the ACP for over 30 years. He is also a past president of the American Academy of Fixed Prosthodontics and the American Board of Prosthodontics.
 Agar is retired from the U.S. Army, where he served as a clinician, educator, consultant and commander. Currently, he is a professor in the University of Connecticut Health Center School of Dentistry's Department of Reconstructive Services. He previously served as director of Graduate Prosthodontics at the University of Connecticut.