COLGATE Partners With MAGNUSCARDS TO SUPPORT INDEPENDENT LIVING FOR PEOPLE WITH SPECIAL NEEDS 
New, Easy-to-Use "Card Decks" Provide Step-By-Step Guidance Around Tooth-Brushing, Dental Visits and Other Oral Care Activities for People Living with Cognitive Special Needs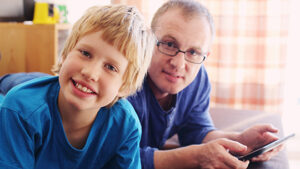 NEW YORK, NY – Colgate is pleased to announce its partnership with Magnusmode, the company behind MagnusCards™, an innovative mobile app that empowers people living with cognitive special needs, such as autism, to independently manage daily skills like tooth brushing. Autism is the fastest-growing cognitive special need in the United States1, and Colgate is honored to support an engaging and easy-to-use tool that empowers users to shape good habits, and build a future they can smile about.
MagnusCards helps caregivers – including parents, support workers and teachers – reinforce routines for people with cognitive special needs through a series of positive and easy-to-understand digital card "decks." Closely developed with oral health experts at Colgate, the five new oral care decks include: brushing, brushing with braces, rinsing, flossing, and visiting the dental office.
"For caregivers of individuals with cognitive special needs, forming daily routines like brushing your teeth can often be challenging," said Barbara Shearer, BDS, MDS, PhD, scientific affairs director at Colgate-Palmolive. "Colgate understands that a healthy mouth is integral to healthy living and we are honored to partner with this innovative app to help make routines, like oral care, easier for people with special needs and their caregivers."
MagnusCards was developed by the president and founder of Magnusmode Ltd., Nadia Hamilton, who was inspired by her brother Troy, who lives with autism. Hamilton sought to create a company that combines a proven method of instruction (i.e. social stories) with elements of game design to help people like her brother master life skills.
"The way that people of all abilities view themselves makes a big difference in how they end up living their lives and the activities that they participate in," said Hamilton. "A healthy smile builds self-confidence which is why we are thrilled to partner with Colgate to encourage healthy habits for brighter futures."
The MagnusCards app is available for free download on the App Store or Google Play. Users can also sign up online at magnuscards.com.
1 http://nationalautismassociation.org/resources/autism-fact-sheet/