AADOM's Green Leader Award Celebrates Environmentally Friendly Dental Office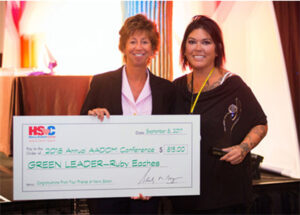 MELVILLE, N.Y. — The American Association of Dental Office Management (AADOM) recently presented Ruby Eaches, FAADOM, practice manager for North Carolina-based Surf City Dental, with the fifth annual Green Leader Award for her commitment to adopt greener practices in her dental office.
AADOM created the award as part of its Green Leader Initiative, which was made possible by a grant from the Henry Schein Cares Foundation (HSCF). The initiative aims to empower practice managers to lead their teams in becoming part of dentistry's green future by teaching them about easy-to-implement strategies that reduce their practices' environmental footprint while achieving greater financial success.
Eaches says, "The Surf City Dental team places great importance on reducing our carbon footprint and fostering an environmentally friendly atmosphere, and we hope that this award inspires other dental practices to join us as we work toward a cleaner, greener future."
During the construction of Surf City Dental's 5,200 square-foot building, Eaches prioritized keeping the carbon footprint at a minimum through the addition of rain chains to collect rainwater for reuse, the use of eco-friendly interior designs — including finishes and paints free of volatile organic compounds, and the addition of windows that allow more natural light—and the replacement of paper towels with hand towels.