AAP and EFP Host World Workshop on the Classification of Periodontal and Peri-Implant Diseases and Conditions
More than 100 periodontal thought leaders convene to establish up-to-date diagnosis guidelines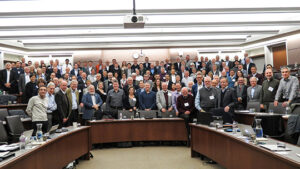 CHICAGO – November 16, 2017 – In conjunction with the European Federation of Periodontology (EFP), the American Academy of Periodontology (AAP) hosted the World Workshop on the Classification of Periodontal and Peri-Implant Diseases and Conditions Nov. 9 -11 at the Gleacher Center in Chicago. More than 100 international researchers, educators, and clinicians gathered to review the latest literature and come to consensus on up-to-date guidelines for periodontal and peri-implant disease diagnosis and definition.
Participants conducted literature reviews, established case definitions, and deliberated diagnostic considerations for the following topic areas: periodontal health and gingival diseases and conditions; periodontitis; developmental and acquired conditions and periodontal manifestations of systemic conditions; and peri-implant diseases and conditions. The inclusion of peri-implant diseases and conditions within periodontal disease classifications is a first, accommodating for what scientists and practitioners have come to understand about implant dentistry.
"Since the last World Workshop was held in 1999, periodontics has made notable advancements in the treatment and diagnosis of periodontal disease. The 2017 workshop intended to account for what we've learned in the last 18 years and help standardize the specialty's definition of disease," says Steven R. Daniel, DDS, president of the AAP. "Our collaboration with the EFP and periodontists from all over the world will work to positively shape the quality of patient care globally."
The 2017 World Workshop is the second recent collaboration of the EFP and AAP. The groups' joint workshop on periodontitis and systemic disease in 2012 was a major milestone in the specialty's understanding of the perio-systemic link.
"After three years of preparation, it was rewarding to see many of the best and brightest in periodontics convene to accomplish the important task of updating and standardizing the definitions of periodontal and peri-implant diseases that will be used by dental professionals around the world. The contributions of the Workshop's expert participants will set the stage for periodontics' expansive future," says Jack Caton, DDS, MS, co-chair of the event's organizing committee.
Proceedings from the 2017 World Workshop on Periodontal Disease Classification will be published in both the AAP's Journal of Periodontology and the EFP's Journal of Clinical Periodontology in 2018. The Workshop was presented with support from the AAP Foundation, Colgate, Johnson and Johnson, Geistlich Biomaterials, SUNSTAR, and Procter and Gamble.