Study Finds Periodontal Disease is Associated with Higher Risk of Several Cancer Types 
Both smokers and nonsmokers faced increased risk  
PHILADELPHIA — Periodontal disease was associated with increased risk of several types of cancer in postmenopausal women, even in women who had never smoked, according to results of a study published in  Cancer Epidemiology, Biomarkers & Prevention , a journal of the American Association for Cancer Research.
In recent years, research has shown that periodontal disease is a risk factor for certain cancers, including breast cancer, oral, and esophageal cancers. However, few studies have analyzed the overall risk for all types of cancers, said the study's senior author, Jean Wactawski-Wende, PhD, a professor in the Department of Epidemiology and Environmental Health and dean of the School of Public Health and Health Professions, State University of New York at Buffalo.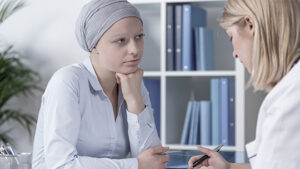 The researchers conducted a prospective cohort study of 65,869 women aged 54 to 86 who were enrolled in the Women's Health Initiative Observational Study. The women self-reported periodontal disease on questionnaires administered between 1999 and 2003. The researchers monitored cancer outcomes through September 2013. Over an average follow-up time of 8.32 years, the researchers identified 7,149 cases of cancer. The study showed that a history of periodontal disease was associated with a 14 percent higher risk of developing any cancer. The strongest association was for cancer of the esophagus, which was more than three times more likely in women with periodontal disease than women who did not report periodontal disease. Lung cancer, gallbladder cancer, melanoma, and breast cancer were also associated with significantly higher risk.
The researchers noted that certain cancers, such as breast cancer, lung cancer, and gallbladder cancer, were associated with higher risk in women who smoked and had periodontal disease. Others, such as melanoma, were associated with higher risk in the women who had never smoked but did report periodontal disease.
Wactawski-Wende said the biological mechanisms that connect periodontal disease and cancer are not yet fully understood. She said one possible explanation is that oral pathogens could potentially be carried in saliva and dental plaque, or through diseased periodontal tissues into the blood circulation to reach other body sites and contribute to carcinogenesis; this may possibly explain the strong association in esophageal cancer.
"The esophagus is in close proximity to the oral cavity, and so periodontal pathogens may more easily gain access to and infect the esophageal mucosa and promote cancer risk at that site," Wactawski-Wende said.
"Our study findings serve to provide further evidence that periodontal disease is linked to cancer, and support the need for further investigation into how periodontal disease contributes to increased cancer risk," said the study's lead author, Ngozi Nwizu, BDS, MMSc, PhD, assistant professor of oral and maxillofacial pathology at The University of Texas School of Dentistry. "This may help direct cancer prevention strategies in the future, including the importance of maintaining good oral hygiene."
The authors said that because the study used self-reported data, the prevalence of periodontal disease may have been under-reported. They said further research that uses more precise assessments of periodontal disease could be useful in confirming the link between periodontal disease and cancer, they added.
The authors said the study's large size adds to the strength of the findings.
"This study is the first national study focused on women, particularly older women," Wactawski-Wende said. "Our study was sufficiently large and detailed enough to examine not just overall risk of cancer among older women with periodontal disease, but also to provide useful information on a number of cancer-specific sites."
The study was supported by the Women's Health Initiative, which is funded by the National Heart, Lung, and Blood Institute, National Institutes of Health, and the U.S. Department of Health and Human Services. The study was also funded by grants from the National Institute of Dental and Craniofacial Research and the U.S. Army. The authors declare no conflicts of interest.