Oral Health America Releases Medicare Dental Toolkit 
CHICAGO, August 7, 2017 — Oral Health America (OHA) is proud to release a new Medicare Dental Toolkit to assist those advocating for the addition of a dental benefit to Medicare.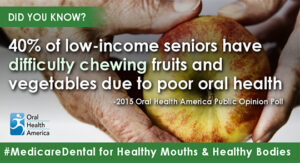 The toolkit includes resources to support communication and partnerships among allied organizations and policymakers in order to forge a path toward achieving dental coverage in Medicare. Current tools include an infographic, a social media guide with shareables as well as a position paper and supplemental research reports. The intent is to make this a living toolkit and to continue adding collateral monthly. The toolkit can be accessed at oralhealthamerica.org/medicaretoolkit.
"This organic toolkit will be a valuable asset for our partners and other organizations that are championing a dental benefit in Medicare," explains Beth Truett, president and CEO of Oral Health America. "With almost 55 million older adults receiving their healthcare services through Medicare, and that number growing each day, now is the time to elevate the conversation around the creation of a publicly funded dental benefit."
The toolkit debuted at OHA's Medicare Symposium, PART 3: Access for Older Adults – Advocating for Oral Health in Medicare, where a variety of voices from the fields of oral health, aging, Medicare and health policy came together around a shared commitment to the oral and overall health of older adults.