Universities Partner to Combat Antibiotic ResistancE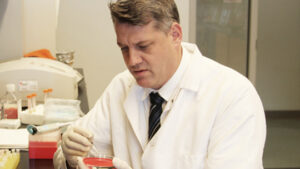 Baltimore, Md.—The University of Maryland, Baltimore (UMB) has granted worldwide, exclusive licensing rights for a new vaccine technology to Serenta Biotechnology, a Gaithersburg, Maryland-based startup. The license is based on technology co-owned by UMB and Northern Arizona University, and is the basis for a multivalent vaccine for infections caused by Staphylococcus aureus, a bacterial strain often resistant to antibiotics, according to a UMB news release.
"This is a very promising vaccine candidate with the potential to prevent a range of S. aureus infections, including those that are resistant to antibiotics available for treating methicillin-resistant S. aureus (MRSA), and has the potential to save many lives," observes Patrik Bavoil, PhD, chair of University of Maryland School of Dentistry's Department of Microbial Pathogenesis.
According to UMB, the licensed technology is a multivalent vaccine consisting of four specific antigens expressed when the organism exists within a biofilm, and one antigen expressed when S. aureus is in its free-floating form. In a mouse model of bone implant infection, the vaccine prevented MRSA infection. Using an antigen discovery platform in collaboration with UMB, Serenta Biotechnology plans to develop a pipeline of vaccines targeting additional pathogens, such as Streptococcus pyogenes, Klebsiella pneumoniae and Acinetobacter baumannii.