Sea Urchin Protein Provides Insights Into Skeletal Structures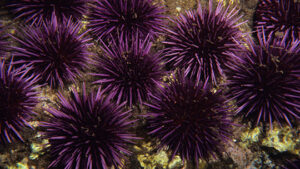 Researchers from New York University College of Dentistry (NYU Dentistry) are investigating the protein calcium carbonate (CaCO3), found inside the spicules of a sea urchin embryo, to understand how these proteins create seashells, invertebrate exoskeletons, and vertebrate bone, dentine, and enamel.
In a paper published in Biochemistry, "A model sea urchin spicule matrix protein, rSpSM50, is a hydrogelator that modifies and organizes the mineralization process," Gaurav Jain, PhD, and John Evans, DMD, PhD, looked at how the CaCO3 matrix is organized inside a sea urchin spicule. According to the study, the spicules begin as chalk, but form stacks of "bricks" when combined with certain proteins. The team found that a recombinant version of the SM50 protein found inside the spicules, rSpSM50, forms hydrogels structures that capture mineral nanoparticles and organize them into crystalline "bricks." They also determined rSpSM50 cause surface texturing and form randomly interconnected porous channels within these crystals.
"Our current research, funded by U.S. Department of Energy, will enable scientists to better understand the mineralization and assembly process crucial to spicule formation in sea urchins," notes Evans. "Our ultimate goal is to determine the molecular properties of these proteins that allow matrices to assemble, mineralize, and participate in the formation of naturally occurring organic/inorganic skeletal structures. The hope is that the comprehensive understanding of spicule proteins will enable the development of tunable, fracture-resistant materials that one day will find its use in developing lightweight armor and sturdier dental composites."