Colgate and ADA Encourage Families to Share Smiles During Oral Health Month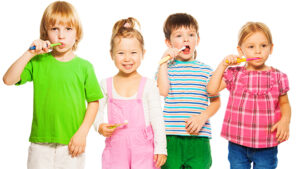 Colgate-Palmolive and the American Dental Association (ADA) have announced their continued collaboration in support of Colgate's annual Oral Health Month via this year's "Share More Time, Share More Smiles" campaign. Now through June 30, 2017, the outreach program encourages families to share more time, moments and smiles together on social media using #TimeToSmile. Colgate will donate $1 for every image or video liked, shared or posted using #TimeToSmile to the ADA Foundation's Give Kids A Smile program, which provides free oral health care, education, screening and treatment to underserved children.
"Healthy habits that start in childhood last a lifetime," says Gary Roberts, DDS, ADA president. "Leading by example — brushing for two minutes, twice a day with fluoride toothpaste and visiting a dentist regularly — teaches kids about the importance of dental health and creates fun family memories along the way."
"Share More Time, Share More Smiles" provides bilingual oral health educational materials, including infographics, children's activity sheets and other resources on Colgate.com/Sonrisas.