University at Buffalo Study Finds Most Nursing Home Patients Refuse Dental Care During Stay
BUFFALO, N.Y. – The perception that if you don't have pain, you don't have a problem appears to apply to patients at long-term care facilities, according to University at Buffalo (UB) researchers, who report that nearly 90% of patients at nursing homes or assisted living facilities don't take advantage of dental services, even when they are free.
The study, published in Special Care in Dentistry, found that the longer patients stayed at long-term care facilities, the more likely they were to use dental services. Even among those who stayed at a facility for years, however, only 55% of patients used the services.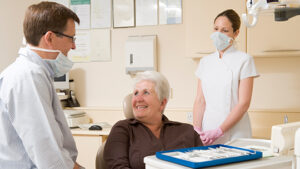 Researchers examined the dental and medical records of more than 2500 residents at the Brothers of Mercy Nursing and Rehabilitation Center in Clarence, New York, who were discharged between 2008 and 2012. Of that group, only 10% received a dental exam at least once during their stay.
"There is a problem within the population as a whole toward appreciation for dental care. The perception is that if you don't have pain, you don't have a problem," said Frank A. Scannapieco, DMD, PhD, lead investigator on the study and chair of the Department of Oral Biology in the UB School of Dental Medicine.
According to the University at Buffalo News Center, researchers found the average length of stay at the facility was two years, with nearly half of patients staying less than a month. Usage rates of dental services ranged from 7% for patients who stayed less than a month, to 30% for those who stayed between a month and two years. Usage rates increased to 55% among those who stayed beyond two years.
Patients who were 76 years of age and older were twice as likely to use dental services compared to their younger counterparts.
Patients with endocrine, nutritional, metabolic, immunity disorders, mental disorders and circulatory system diseases were more likely to receive dental services as well.
Read the full report at buffalo.edu.
Featured photo courtesy of monkeybusinessimages/Thinkstock