NYU College of Dentistry's Nicola Partridge Awarded $1.9M to Further Osteoporosis Drug Research and Development
New York University College of Dentistry's (NYU Dentistry) Nicola Partridge, PhD, has been awarded a five-year, $1.9 million grant from the National Institute of Diabetes and Digestive and Kidney Diseases (NIDDK) to investigate potential new compounds for the treatment of osteoporosis.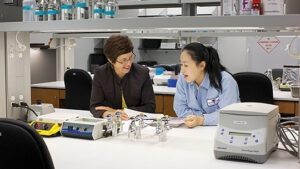 According to NYU College of Dentistry, The federally funded grant will support bench research aimed at understanding how the protein hormone, parathyroid hormone-a related protein-and a drug analog that mimics the protein called abaloparatide, interact in the surface of a cell in bone and affect bone formation and breakdown.
All three of these hormones are currently being investigated for the treatment of osteoporosis and the latter two are believed to have a wider therapeutic window than teriparatide (short form of parathyroid hormone) injection, commonly used for severe osteoporosis.
"With this grant, we hope to understand the molecular mechanisms, pathways, and interactions at the cellular level that affect bone building and breakdown," said Partridge, professor and chair of NYU Dentistry's Department of Basic Science and Craniofacial Biology. "Learning how these hormones, related proteins, and its analog work will help us develop new treatments that are better tolerated for osteoporosis."
The investigators hope to learn whether the protein and drug analog might provide a better treatment than parathyroid hormone for osteoporosis or teriparatide. Abaloparatide has been shown to yield a greater increase in bone mineral density, especially in the hip.
Featured image courtesy of  NYU Dentistry