Ultradent Employees Raise $85,263 for the Utah Food Bank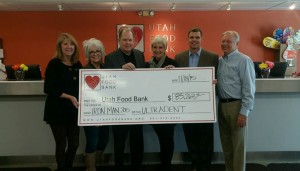 Each year, Ultradent Products, a leading developer of high-tech dental materials, devices and instruments, coordinates a food drive to benefit the Utah Food Bank. Under this year's "Ironman" theme, the Utah-based company sought to raise as much money as possible within an intensive, three-day push. Within those three days, Ultradent employees and their families were able to raise $85,263, which translates to 341,036 pounds of food that will help feed needy individuals and families this holiday season and throughout the year.
Since the tradition began in 2011, Ultradent has donated the equivalent of 1.2 million pounds of food to the Utah Food Bank, though donations are sometimes split with other deserving groups or victims of tragedy, such as those affected by Typhoon Haiyan in 2013.
Donations for Ultradent's 2015 food drive were raised through drawings, bake/pop-up boutique sales, food truck events, and a charitable golf tournament — all organized by company employees.