Product Profile: Multi-Axis Spiral Suction from Ghost Manufacturing
Award-winning suction tip revolutionizes high-volume evacuation.
AWARD-WINNING SUCTION TIP REVOLUTIONIZES HIGH-VOLUME EVACUATION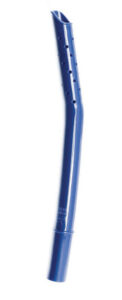 FEATURES AND BENEFITS
Ghost Manufacturing's innovative Multi-Axis Spiral Suction offers multiple benefits. It's the only high-volume evacuation (HVE) tip that will not grab the tongue, cheek or other soft tissue — and it also won't take patients' breath away if they close on the tip.
Engineered to provide continuous suction — even if the end is occluded — it's designed to prevent the possibility of fluid backflow.
The Multi-Axis Spiral Suction allows single-handed dentistry without the use of cumbersome apparatuses. What's more, dentists will appreciate using an HVE tip that doesn't constantly grab tissue.
When used during four-handed dental procedures, the tip's design encourages dental assistants to maintain ergonomic hand positioning, while the angled barrel wall simultaneously improves the field of view for the dentist and assistant.
Quieter than traditional HVE tips, the product features a rounded edge to prevent possible tissue trauma, plus a rigid barrel that facilitates soft-tissue retraction.
Due to its advantageous design and fact that patients can actually close their lips around it, this tip also functions as a saliva ejector. This allows assistants and dental hygienists to eliminate the use of saliva ejectors.
The Multi-Axis Spiral Suction has earned 4.8 stars on a five-star scale from more than 110 customers who have reviewed this tip on Ghost's website. Their comments can be seen at masssuction.com.
In addition, the Multi-Axis Spiral Suction has won eight major awards, including The Dental Advisor's Top HVE Tip award, Reality Publishing's 4-Star Award, Dental Product Shopper's Best Product award, and Dentistry Today's Top 100 Products and Top 25 First Impression Product awards.
BOTTOM LINE
Ghost Manufacturing's award-winning Multi-Axis Spiral Suction has revolutionized dental evacuation by solving the problems associated with traditional HVE tips. Featuring a disposable, single-patient design that promotes asepsis, it's cost-effective, too. Using the Multi-Axis Spiral Suction costs an average of 15 cents to 17 cents per procedure. And here's another consideration: This tip is even more cost-effective when you consider the time savings of using the Multi-Axis Spiral Suction, especially when the office is able to eliminate the expense of saliva ejectors.