FAQ: Kerr Restoratives
New dual-cure, self-etch, self-adhesive cement offers cleanup indicator.
NEW DUAL-CURE, SELF-ETCH, SELF-ADHESIVE CEMENT OFFERS CLEANUP INDICATOR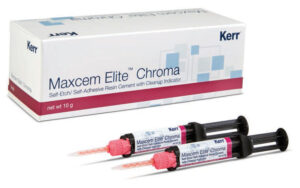 Maxcem Elite Chroma from Kerr Restoratives

What are the clinical advantages of Kerr's Color Cleanup Indicator technology?
Maxcem Elite Chroma is the first selfetch/ self-adhesive resin cement offering a Color Cleanup Indicator that takes the guesswork out of cleanup. The material dispenses pink, but turns to a cement shade as it cures. As Maxcem Elite Chroma reaches a gel state, the material will change to a cement shade with the faintest pink hues — indicating it's time to initiate Kerr's simplified, One-Peel cleanup process.
Which additional features make this product worth considering? And is it compatible with all substrates?
Featuring One-Peel cleanup and dual, self-cure/light-cure versatility, Maxcem Elite Chroma is compatible with virtually all indirect restorative materials, such as anterior or posterior ceramics, metal, porcelain-fused-to-metal and CAD/CAM prostheses. In addition, it forms a strong and durable bond with a wide range of dental substrates, including zirconia, lithium disilicate, porcelain, composite, gold, Rexillium and titanium.
Is this cement a good choice for clinicians who prefer a tack-cure technique? Won't the color change from pink to white instantly?
One of Maxcem Elite Chroma's best features is that it can be used in either self-cure or light-cure/tack-cure modes. When used with a tack-cure technique, the cement will change from pink to white quite dramatically, signaling polymerization. This visualization helps ensure consistent clinical results.
What's the difference between Maxcem Elite and the new Maxcem Elite Chroma formula?
Maxcem Elite Chroma offers all the proven attributes of Maxcem Elite — including significant radiopacity, automix delivery and nonrefrigerated storage — but Kerr's new formulation features the added convenience of color-changing technology for consistently predictable outcomes.