November 2020 Marketplace
A listing of featured products.
COMPOSITE FOR PROVISIONAL CROWNS AND BRIDGES
VOCO (888-658-2584; vocoamerica.com) introduces Structur CAD, a family of esthetic composite blocks and discs that is said to be ideal for short- or long-term provisional restorations. Designed to allow practitioners to mill temporary crowns and bridges quickly and reliably, Structur CAD has outstanding edge stability after milling. Polishing is quick and easy, and the material's fluorescence is reportedly similar to natural dentition. These milled temporary restorations are easy to reproduce and repair, and can be customized with conventional composites. Cementation can also be customized to fit the patient's particular situation, and Structur CAD does not need to be fired or glazed. It is available as a block or disc in shades A1, A2 and A3.
TELEDENTISTRY ON DEMAND
In synch with the realities of today's practice, MouthWatch (888- 278-7574; mouthwatch.com) offers TeleDent, a mobile-friendly workflow solution that makes communication more convenient for patients, and collaboration more efficient between multidisciplinary care providers. TeleDent enables the sharing of patient data, clinica information, intraoral images and videos in real-time or via storeand-forward technology. It also enhances referrals and facilitates oral health screenings, clinician/ patient consultations, and collaboration between general practitioners and specialists across a variety of dental and medical fields. Circle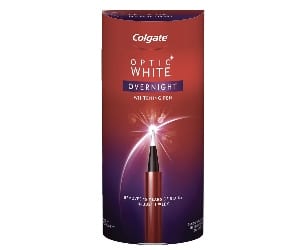 WHITENING PENWORKS WHILE THE PATIENT SLEEPS
Colgate's (800-468-6502;
colgate.com/en-us) Optic White Overnight Teeth Whitening Pen is designed to brighten patients' smiles while they sleep. Users will appreciate the whitening pen's simple application. Powered by hydrogen peroxide, the formula is easily removed the next morning when patients brush their teeth. Key benefits include easy and effective whitening while the patient sleeps, no tooth sensitivity during or after the whitening process, and a two-week treatment time.
ORAL PROBIOTIC HELPS FIGHT PLAQUE
Burst (burstoralcare.com) introduces Oral Probiotics, minty fresh, dissolvable lozenges that, in conjunction with regular oral hygiene, help establish a healthy microbial balance in the oral cavity and upper respiratory system. The product focuses on promoting the growth of good bacteria, such as Streptococcus salivarius and Lactobacillus rhamnosus, in the oral cavity and curtailing pathogenic bacteria. Formulated with 6 billion colony forming units and six strains of bacteria, these probiotic strains specifically target plaque buildup, caries and oral malodor.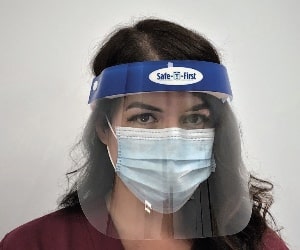 FACE SHIELD SUPPORTS CLINICIAN COMFORT
Flow Dental (800-356-9729; flowdental.com) introduces Safe-T-First face shields, which are described as meeting the highest standards for safety, clarity and reliability. These antifog shields are scratch resistant and include two peeloff layers of safety film to ensure the shield will provide the clearest possible viewing area. The latex-free forehead cushion allows clinicians to wear the face shield comfortably for hours.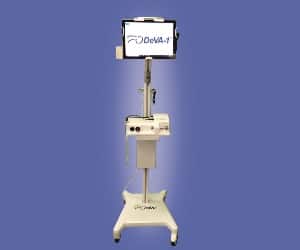 DENTAL ENDOSCOPE FACILITATES CARE
OraVu (480-884-1552; oravu.us) offers the DeVA-1 2G Dental Vision Assistant that locates the camera sensors in the distal tip of the digital camera fiberscope so a lens coupler is not needed to focus. This new design is said to allow cleaner and crisper images and videos when viewing deep into the sulcus. The second-generation DeVA-1 digital endoscope allows periodontists and dentists to see deep into the gingival pocket without flap surgery. The system is available in two configurations: a lightweight, wheeled system that can be moved throughout the office, and portable unit that can be easily disassembled and transported where needed.
From Decisions in Dentistry. November 2020;6(10): 45.