Marketplace
A listing of featured products.
UNIT-DOSE DENTAL ADHESIVE
Bisco (800-247-3368; bisco.com) now offers its All-Bond Universal light-cured dental adhesive in unit-dose packaging. Said to be truly universal, it combines etching, priming and bonding all in one bottle (or unit dose). An ethanol/water-based formulation, the product is designed to bond to dentin, as well as to cut and uncut enamel, while minimizing post-operative sensitivity. Formulated to provide high bond strengths to indirect substrates — including metal, glass ceramics, zirconia, alumina, porcelain (silica-based) and lithium disilicate — it features a low film thickness. It is also compatible with light-cured, self-cured and dual-cured composite and cement materials, without the need for an activator. Offering clinicians flexibility and reliability in adhesive procedures, All-Bond Universal can be stored at room temperature.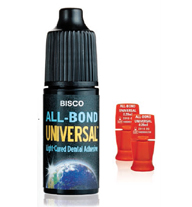 NEW BUCCAL TUBE DESIGN
Designed with a compound-contour curvature base, Victory Series Superior Fit Buccal Tubes, new from 3M Oral Care (800-634-2249; 3MESPE.com), help ensure a seamless fit. The tube, which features a micro-etched, 80-gauge mesh pad for strength, is also reportedly easy to use and handle via the gripping notch and parallel mesial-distal and occlusal-gingival surfaces. A visual alignment mark facilitates easy wire insertion with less risk of binding and notching. A sleek, low profile and bendable flush-mount hook enhance patient comfort by reducing occlusal interference and cheek irritation. The tubes are available pre-coated with the manufacturer's APC Flash-Free Adhesive.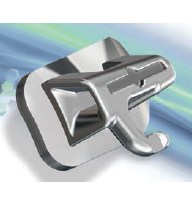 DEPENDABLE PRIMER
Parkell's (800-243-7446; parkell.com) EaZy Primer is said to offer dependable luting of ceramic materials, including zirconia. This formulation provides an enhanced bond to the silica-free, polycrystalline structure of zirconia, while also delivering predictable results with lithium disilicate and porcelain. Simple to use, EaZy Primer is applied with one stroke, and left to evaporate on its own. It can be used without hydrofluoric acid, which can cause patient discomfort. The new primer is designed for enhanced esthetics and strong bonds when used as an adjunct to resin cement.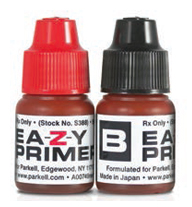 CHAIRSIDE DESIGN AND MILLING
Planmeca (800-537-6070; planmecacadcam.com) has announced new branding for its complete chairside computer-aided-design/computeraided- manufacturing system, the Planmeca FIT. This fully integrated open system includes the PlanScan scanner (which delivers accurate intraoral scans), PlanCAD software (for intuitively designed restorations), and the PlanMill 40 mill (which allows precise, in-office milling of restorations). Combining an exceptional patient experience and convenience with high-quality, natural-looking restorations, the new system is a worthy choice for offices looking to offer same-day indirect restorations.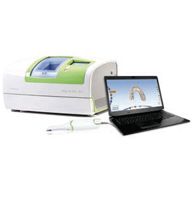 ORAL SCREENING
The OralID, developed by Forward Science Technologies (855-696- 7254; OralID.com), is a chairside oral cancer screening device based on fluorescence technology. Using a blue light, the device is designed to help dental professionals identify oral cancer, pre-cancerous lesions and other abnormalities at their earliest stages. Clinicians wear the OralID glasses (provided) and press a button in order to distinguish between healthy and abnormal cells, which will appear dark due to lack of fluorescence. And the best part? No rinses, dyes or per-patient disposables are required.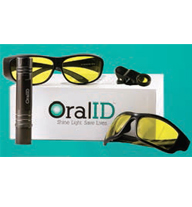 THREE-DIMENSIONAL PLANNING
KaVo Kerr Group Imaging (888-485-7020; gendex.com/invivo) introduces its Invivo 5.4, an enhancement to its cone beam computed tomography (CBCT) treatment-planning software. The new version offers superb control for the designing of crowns, abutments and implants from the cone beam scan. Simplifying the implant selection process, the software allows clinicians to adjust and size implants directly within the three-dimensional rendering, so they can be set individually or in parallel groups. It also offers a rich and highly detailed airway analysis, jaw articulation simulation, enhanced abutment design, quick and easy bone grafting simulation, and more. Invivo 5.4 software is included with INSTRUMENTARIUM's OP300 Maxio cone beam scanners, Gendex's GXDP- 700S and SOREDEX's CRANEX 3Dx and SCANORA.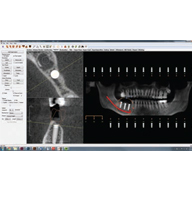 STOOL SERIES DEBUTS
An ergonomically designed operator stool can mean the difference between a long career and one cut short by repetitive musculoskeletal injury. The new 500 series from A-dec (800-547-1883; us.a-dec.com) offers the utmost in comfort and support for dentists, dental hygienists and dental assistants. Featuring three layers of flexible seating, the stools conform to the kinds of movements common in the operatory, while a contoured backrest cradles the spine and encourages blood flow. Numbered paddles allow fine-tuning throughout the day, which is especially helpful in the case of multiple users. Offering a dynamic seating system, the 500 series features tilt seating, push-button backrest height control, a standard foot ring and smooth, quiet casters.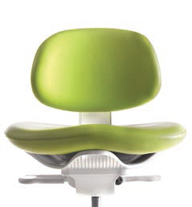 CEMENT NOW OFFERED IN TRIAL KIT
Ceramir Crown & Bridge luting cement from Doxa Dental (855-DOXA-USA; CeramirUS.com) is now available in a trial kit, which includes 10 single caps per box. This permanent cement belongs to a class of materials called nanostructurally integrating bioceramics. It's resilient, biocompatible and integrates with natural tooth structure, offering stability and toothlike physical and mechanical properties. The formulation is reportedly nonirritating and promotes decay resistance, while fostering the buildup of nanocrystals, which integrate with dentin and enamel. Said to deliver a good seal even when conditions are less that optimal, it's easy to use and handle, and requires no etching, priming, bonding or conditioning.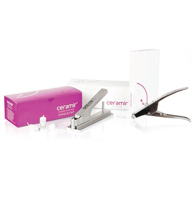 NARROW-DIAMETER IMPLANT WARRANTY
Zest Anchors (800-262-2310; zestanchors.com) has introduced a 10-year warranty for its line of narrow-diameter (less than 3 mm) dental implants. The warranty will cover replacement of Locator Overdenture Implant (LODI) System (shown) and SATURNO Narrow Diameter Implant System (SNDI) products (for a $25 processing fee for each qualifying implant). The most recent additions to the manufacturer's Locator Attachment System, the LODI narrow-diameter implant system features a detachable abutment, while the SNDI system is a one-piece, narrow-diameter O-ball implant that offers a 20-degree angled implant option with pivoting O-ring technology.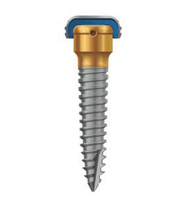 FLUORIDE VARNISH LAUNCHED
The latest in its line of preventive products, Crosstex's (888-276-7783; crosstex.com) ProGuard varnish is designed to effectively reduce dentinal hypersensitivity and help prevent the development or progression of caries lesions. Easy to apply, the 5% sodium fluoride varnish boasts excellent flow characteristics and comes in unit-dose packaging that includes a brush applicator. Clinicians will appreciate ProGuard's high substantivity that helps ensure effective fluoride release, and that the material sets quickly, even in the presence of saliva. Patients will love the fast-drying formula that allows them to resume normal activities immediately after application. Said to be effective in sealing dentinal tubules for cavity preparations or for use on sensitive root services, it can also be used as a cavity liner under amalgam restorations. Gluten free and sweetened with xylitol, ProGuard is available in mint and melon flavors.
FORCEPS IMPROVE ACCESS
The new Atraumair Forceps line from Hu-Friedy (800-483-7433; hu-friedy.com) offers optimal access and improved crown and root engagement during tooth extractions, thanks to its sophisticated beak geometries. The forceps are constructed with surgical-grade stainless steel and feature unique hole designs to reduce handle weight, and improve tactile feel, control and comfort. A matte finish enhances contrast for maximum visibility and reduces light reflection. In addition, the hinge on each forceps is laser marked with a part code to ease identification and aid visibility when the forceps are bagged for sterilization processing.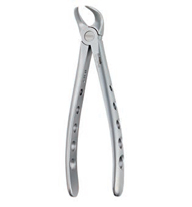 ECOFRIENDLY CLEANER
New from Premier (888-670-6100; premusa.com) is the VACU BLAST evacuation system cleaner. Formulated to be environmentally friendly and easy to use, the system has the added bonus of having a refreshing eucalyptus scent. Reportedly compatible with all amalgam separators, its metered-dose bottle makes it economical to use in any operatory. This, along with the system's nonfoaming formula that protects pump parts, can ensure that evacuation systems are operating at peak performance. VACU BLAST is available in 32-ounce bottles, and each bottle yields 64 treatments.