Marketplace
A listing of featured products.
OPTIMIZING DENTAL WATERLINES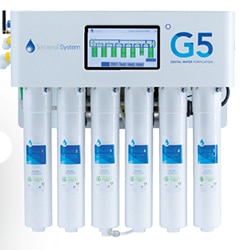 Sterisil (719-622-7200; sterisil.com) has released the new Sterisil System G5 for dental waterline management. Integrated with smart technology, the G5 uses six stages of purification to provide dental practices on-demand, purified and treated dental unit water. Features include a Class A UV light capable of killing 99.99% of bacteria and viruses, touchscreen convenience and a network of sensors. Water quality data and alarms are aggregated into one location via the PC app for efficient diagnostics and water-quality control.
ONE-STEP COMPOSITE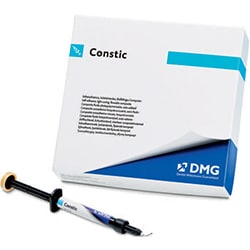 DMG America (800-662-6383; dmg-america.com) offers Constic, a new composite engineered for multiple clinical procedures that offers etching, bonding and filling in a single step. Designed for use in class I and II restorations, this material is also indicated for application as a baseliner under traditional composites and for pit-and-fissure sealing. Its cone-shaped brush allows clinicians to access deep fissures. DMG's three-in-one composite is available in A1, A2, A3, A3.5 and B1 shades, as well as opaque white.
PRO SCALERS AND CURETS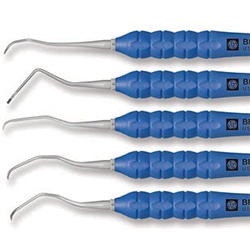 Brasseler USA (800-841-4522; brasselerusa.com) has expanded its ImplantPro family of products to include the new ImplantPro Titanium scalers and curets. Boasting thin, durable tips and an ergonomic design, these instruments are effective at removing calculus and biofilm around implants, both supra- and subgingivally, as well as interproximally. The ImplantPro Titanium 204S scaler features thinner, shorter blades with less curvature than a traditional 204S, while the four ImplantPro Titanium curets feature elongated terminal shanks and thin, short blades to reduce tissue distention and ease subgingival insertion.
AUTOSYRINGE SIMPLIFIES ENDODONTIC IRRIGATION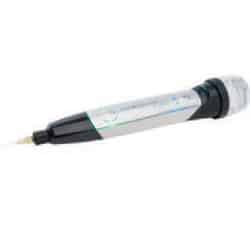 The AutoSyringe by Vista Dental (877-418-4782; vista-dental.com) is said to make irrigation easy, convenient and affordable. The product minimizes hand fatigue, replaces the conventional Luer lock syringe and decreases the number of irrigating tips used. A lightweight, cordless and battery-operated device, AutoSyringe ensures a controlled flow of endodontic solutions, as three adjustable flow rates provide for safe apical pressure. Its quick-connect, 20-ml reservoirs can be filled with the medicament of choice. The AutoSyringe accepts any Luer lock tip and is compatible with sodium hypochlorite.
NEW INSTRUMENT ORGANIZER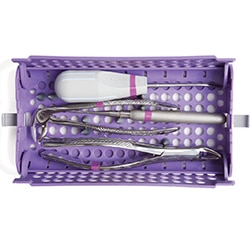 The Performance Tool Organizer by Zirc (763-682-6636; zirc.com) is a deep and large cassette specifically created for sizable and specialty instruments. This roomy organizer allows a clinician to design his or her own layout using customizable, removable feet. Ideal for surgical elevators and forceps, orthodontic pliers, hemostats, scissors and other instruments that do not fit in a typical cassette, it features covers that remain fastened to the cassette and fold back with ease. The cassette also allows excellent water flow for efficient processing.
FLUORIDE-RELEASING COMPOSITE DEBUTS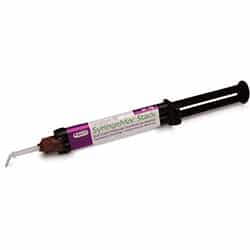 Premier (888-670-6100; premusa.com) introduces CompCore AF Stack, a composite that's designed to remain in place — even in difficult maxillary core buildups — yet flow under pressure. This fluoride-releasing, dual-cure core buildup material has enhanced light-curing properties with exceptional performance and radiopacity. It can also self-cure intraorally. Excellent translucency presents a more natural tooth appearance and minimizes the chance of shadows under ceramic crowns. The use of Premier's proprietary Hyperbranched Technology and nanofillers is said to ensure superior mechanical properties and long-term clinical success. CompCore AF Stack is available in automix SyringeMix and cartridge dispensers.
TIME-OPTIMIZED IMPRESSION SYSTEM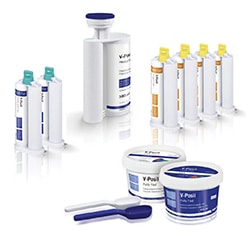 VOCO America (888-658-2584; vocoamerica.com) introduces V-Posil, a precision vinyl polysiloxane impression system that offers up to two minutes of adjustable working time to give practitioners control over the pace of the procedure. It also features a two-minute thermoactivated set time that saves time and improves patient comfort. Clinicians will appreciate that V-Posil's rapid snap-set reduces the time spent in the critical zone by up to 50%, minimizing potential distortion due to human error. This material is indicated for a full-range of impression techniques, including reline/rebase impressions and impressions for removable dental prostheses. With a low polyether-like contact angle of < 10°, V-Posil's exceptional hydrophilicity displaces fluids to enhance contact with dental anatomy, yielding more precise impressions. Clinicians can choose from multiple viscosities, including two tray materials in V-Posil Putty Fast and Heavy Soft Fast, and two wash materials in V-Posil Light Fast and X-Light Fast.
FLUORIDE-RELEASING VARNISH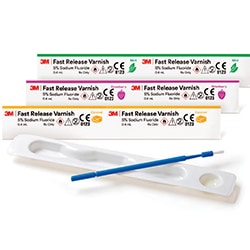 3M Oral Care (888-364-3577; 3m.com/preventivecare) has launched a new fast-releasing fluoride varnish in three flavors and a unit dose tray. 3M Fast Release Varnish is formulated with 22,600 ppm sodium fluoride and provides rapid protection because it releases fluoride quickly. It's available in caramel, strawberry and mint flavors.
RUBBER DAM ENSURES PATIENT COMFORT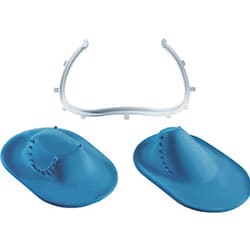 Kerr Endodontics (800-537-7123; kerrdental.com) has launched its clinician friendly, patient-pleasing OptiDam. Described as a low radiopacity rubber dam that offers stress-free positioning and patient comfort, OptiDam's features what Kerr describes as a three-dimensional design that provides optimal visibility and accessibility to the treatment area, an anatomical shape to reduce tensioning, and a nipple design to guide providers during positioning for easier assembly and removal.
EXAM GLOVES OFFER STRENGTH AND TACTILE SENSITIVITY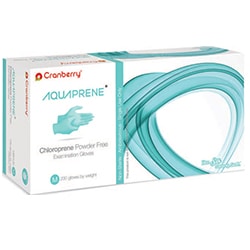 AquaPrene chloroprene powder-free examination gloves by Cranberry (888-811-6839; cranberryusa.com) are made from a synthetic material with a molecular structure that closely mirrors natural rubber latex — providing clinicians the comfort and feel of latex and the strength of nitrile. These gloves feature low modulus properties for a soft and elastic fit. The ambidextrous gloves have textured fingertips for enhanced wet- and dry grip performance. Featuring rolled, beaded cuffs, they are available in extra small to extra-large sizes and are sold 200 gloves per box.
TRAVEL-SIZE TOOTHBRUSH PROTECTOR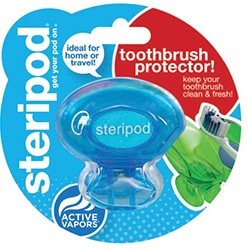 Bonfit America (800-526-6348; bonfit.com) now offers its Steripod clip-on toothbrush protector in a new single pack. Steripod toothbrush protectors are designed to safeguard manual or electric toothbrushes by using thymol to help protect the brush head from contaminates. Each pod is said to last up to three months.
HIGH-DEFINITION INTRAORAL CAMERA ALLOWS EASY IMAGING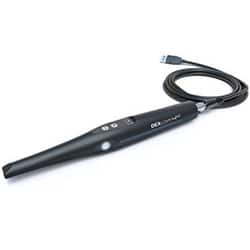 Dexis (888-883-3947; dexis.com) has introduced the DEXcam 4 HD intraoral camera that captures high-quality images useful for diagnosis, the clinical record and patient education. This robust camera features high-definition imaging and DEXcapture acquisition software for true-to-color images that can aid treatment acceptance. The DEXcam 4 HD provides easy image capture capability for either right- or left-handed clinicians
From Decisions in Dentistry. July 2017;3(7):58–59.